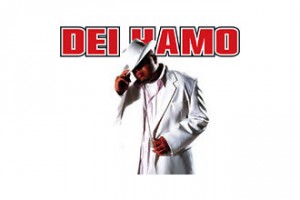 With 3 months in the Top 10, Dei Hamo's debut single 'We Gon Ride', which spent a whopping 5 weeks in the Number 1 spot, showcases why he's considered by most to be the hottest new talent in New Zealand hip hop… killer rhymes, addictive hooks and more than a touch of humour.
The highly acclaimed video clip, shot by leading music video director Chris Graham, entered the music television charts at Number 1 and has continued to be one of the most requested video on TV. In fact Rip It Up magazine has officially named it New Zealand's music video of the year.
For Dei Hamo this success is the culmination of a 15-year musical odyssey that began as a high school student writing a song a day and working on his rhymes. From there Dei Hamo worked with a variety of leading New Zealand hip hop projects including Stubborn Purpose, Urban Pacifika and New Zealand's now legendary hip hop undertaking – the 'Proud' tour. Following the birth of his son Kiani in '99, Dei Hamo took two years off from music while he concentrated on being a new father.
But the power of music's call had him back in the studio in 2002 with the aim of doing a small independent release. Synchronicity being what it is, Matt Ruys (K'Lee, ELEMENO P, Brooke Fraser) was trying to track Dei Hamo down at the same time to sign to his new label HiRUYS Records, a joint venture with Universal Music New Zealand. "I've been listening to Dei Hamo for years and have always felt he had what it took to take New Zealand hip hop to the world," Matt Ruys says. "His music tells local stories with global flavour. His beats are addictive and his personality is as huge as his heart. He's a true all round entertainer, something rare in today's musical landscape."
The 16 songs on Dei Hamo's new album, release via Universal Music Australia, range from club anthems like the party starter 'Make It Hot, to personal exposes like the revealing 'A True Story', from songs about life's struggles to sweet and sometimes sorrowful ballads of love's wake. The well-crafted songs paint vivid pictures that play out like movies in the listener's minds. The talent of Dei Hamo has been recognized by other top New Zealand musicians, a number of who have appeared on his debut album. Tim Finn re-recorded his wistful Split Enz classic 'I Hope I Never', which blends effortlessly with Dei Hamo's longing rhymes in the newly titled 'Cry Again'. And stellar* lead singer Boh Runga co-wrote and sang on the powerful 'Home Invasion', a tale of music as a sanctuary in a troubled world. Renowned beat-maker John Chong Nee provided a number of the unstoppable grooves on the album, which avoids relying on samples for hooks.
Dei Hamo has supported Black Eyed Peas, Busta Rhymes and D12 in New Zealand, as well as touring with 1200 Techniques and D12 on their Australian tours. In October of 2005 DEI HAMO won best video and highest selling single at the NZ Music Awards.
The new single 'To Tha Floor!' which is accompanied by another Chris
Graham video featuring Jonah Lomu, is a monster club anthem that's sure to keep dance floors packed and car stereos pumping over a long hot summer. Stay tuned for local Australian release through Universal Music.
Tourdates
| | |
| --- | --- |
| Members | Albums / Lp's |
| Dei Hamo 7 Friends | Dei Hamo (First Edition) |
| Latest Release | Website |
| Dei Hamo (self titled) | www.deihamo.co.nz |