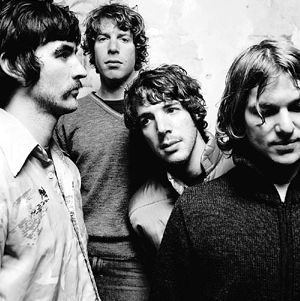 See The World is a warm invitation into the world of Gelbison, a pop record even, with 'pop' not the sometimes derisive term it can be today.
It's an album of a band finding itself, becoming looser and more approachable. Finding strength, faith, and a confidence in itself. Such revelation best comes from times of adversity. Such is the case here.
"Before we started recording, I really didn't know if we could do it," admits singer-guitarist Edo. "All the dramas of life had just mounted up. I'd just broken up with my girlfriend, Dave (Galafassi, ex-drummer) had married and decided to leave the band, and the weight of expectations that comes with a second record, was getting to me."
The unusual answer: "I dropped to my knees and cried. I opened myself and let it all flow out." The musical results are never less than honest, and often joyous. The emotions expressed go from the aching to the euphoric. As a songwriter, Edo has found his voice, which strengthened by his co-writing partnership with Nadav, sees the Kahn Brothers spearhead a band with Peter Farley that can revel in its own reinvention.
See The World takes stylistic and musical leaps from Gelbison's critically-acclaimed debut, 1704. The listener will find hints of the band's passion for electronica, ambient loops, cinematic orchestration and the stripped back folk-country simplicity the Kahn Brothers found in their Nations By The River collaboration. But, the fact Gelbison do it with such subtlety, and in the context of infectious melodies, tighter and simply more assured songs, is further evidence of their artistic growth and the strength of this record.
"In 1704 we explored a wide range of our personalities and influences," Edo explains. "The canvas felt limitless and we tried to incorporate everything we love about music into the one painting. In See The World, the canvas is still full but somehow the picture is clearer."
See The World flows from emotion to intellect and back again. From the previewing single All The Rage – its guitar swing and rhythmic insistence counterpointing Edo letting you into his thought processes and mixed feelings of a love now gone, to the splitting intimacy and surrender of album closer Be Broken To Be Whole. There is Holy's dark self-affirmation, against the sweet Summer Of Love. A whispered sharing in All Your Scars contrasting the fizzing new wave pop-politic anthem of Poets. The words are sometimes bold, sometimes open to a dozen interpretations. The guitars are melodic and discordant – sometimes at once. A bed of close-to-white-noise technology segues into a gentle sob of strings. Things are seen from original angles. And yet, it all fits, remaining uniquely Gelbison. This is their truth.
The world is already listening. The band's appearances at the premier music conference, South X SouthWest in Texas, were widely acclaimed by both industry and the media from both sides of the Atlantic. Gelbison made just about every pundit's list of 'bands to watch'. Live reviews, and acclaim for the now American-released 1704, have been as glowing as they were here.
See The World showcases a now more confident band. Though collaborators in this record have helped shape its beautiful and unique sound. The band teamed up with co-producers Ben Frost (Programmer) and again with Gomez's Ian Ball. The album features piano flourishes from The Necks' lauded Chris Abrahams and drummer Tony Buck. Other musicians include drummers Malcolm Clarke (Sleepy Jackson), Art Wilson (People of Alaska), Toby Doctor (Sounds Like Sunset), Hamish Stewart and noted avant-garde performers Oren Ambarchi (Sun), Scott Horscroft (Engineer/Mixing). Claire Cooper (Harp) and Naomi Radom (Coda) again providing the string arrangements that add even more colour to Gelbison's worldview.
"To us, it just comes down to a matter of 'Head versus Heart', and can you find a balance? Ultimately you have to trust your heart and let it melt the anxieties of the mind", offers Edo. For a generation full of confusion, frustrations, and contradictions it's a deceptively straightforward view. That Gelbison can voice this complex range of feelings in the context of some incredibly honest and infectious songs makes this record even more special.
Tourdates
| | |
| --- | --- |
| Members | Albums / Lp's |
| Edo Kahn: singer/guitarist | See The World |
| Peter Farley: bass/horns/vocals | 1704 |
| Nadav Kahn: sonic keys/harp/vocals | |
| Art Wilson: drums/cello | |
| Latest Release | Website |
| See The World | www.gelbison.com.au |
| 1704 | |