Alternative content

Girl

 

Alternative content

Live Free Or Die

 

Alternative content

Fuck You
Having an utterly insatiable appetite for music from a very early age, and performing in various bands over the past few decades, respected Australian actor, visual artist & all round good guyNoah Taylor has teamed up with his musical pals Ed Clayton- Jones (The Wreckery) and Cec Condon & Jed Kurzel  (The Mess Hall) forming Noah Taylor & The Sloppy Boys to record six songs which snap like frenetic disconnected live wires.
Combining a marriage of raw rock and roll with gritty punk tinges, hypnotic guitar, swampy drums, and deliciously crude humorous lyrics comes their debut CD Live Free Or Die!!! , released late 2011 on  Z-Man Records.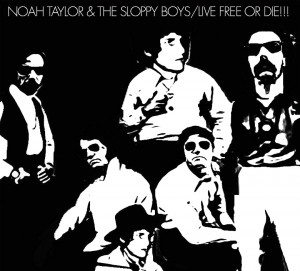 Recorded in a remarkable twenty four hours in Sydney in 2010 in an old-school ethics vein of the likes of Sun record label etc Live Free Or Die!!! came about under sheer serendipity when a recording studio owned by a friend suddenly became available when a band dropped out whilst Noah, who for the past decade has lived in England, was visiting Australia. This suited Noah's no nonsense approach to the way he likes to record : he's not a fan of over-production. The result is pretty special considering the band had never played together before and exhibits a real synchronicity amongst the members.
All six tracks were penned by Noah over a one week period prior to recording, and Live Free Or Die!!! deals with falling in and out of love. Holiday Sidewinder (Bridezilla), who is Noah's god-daughter, guest vocals on the track Scary and she provides an enchantingly formidable and haunting tone.
Noah Taylor & The Sloppy Boys recently made their debut Australia supporting Nick Cave's & including an appearance at Homebake Festival + their own headline shows. Wowing the crowds, Noah Taylor & The Sloppy Boys will surely be back to tour when Noah can takea  break from his 'day job'. Stay tuned for live news and in the meantime, the EP "Live Free Or Die!!! is available now from from all good record shacks  (via Z-Man Records/Fuse Distribution).
"Some of the strangest, funniest, rawest, most heart-wrenchingly deranged music I have ever heard. The song Live Free or Die!!! surpasses all understanding – part Bedlamite gibberish, part conspiracy theorist rant, part high opera, it is thrills and chills all the way. Rose is song of the year, no contest. This album takes the "break up" record to a wholly new place- dark, agonized, outraged, moving and very very funny. A flat-out, freaked-out masterpiece." Nick Cave
Tourdates
| | |
| --- | --- |
| Members | Albums / Lp's |
| Noah Taylor – Vocals/Guitar | Live Free or Die!!! EP |
| Ed Clayton-Jones – Bass | |
| Cec Condon – Drums | |
| Jed Kurzel – Guitar | |
| | |
| | |
| Latest Release | Website |
| Prime Mover Soundtrack | http://www.myspace.com/thesloppyboys |