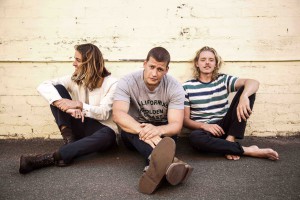 Sons of the East is an indie-folk band from Sydney, consisting of Jack Rollins, who once tamed an emu; Nic Johnston, the guy who is without a doubt the best at finding short cuts; and Dan Wallage, whose hair was once described by David Attenborough as 'the single greatest organism to ever grace the earth'.
Forming in late 2011, these gentlemen have made their way around Australia, from Sydney's best live music venues to a camel farm in Uluru. Their sound is a saucy, heterogeneous melting pot of diverse indie sounds and sundry folk melodies; a multifarious and motley mix of banjo, organ, piano, guitar, stirring harmonies and the occasional didgeridoo. The result is a modern, alternative folk sound that draws on truly eclectic influences from far and wide, but somehow winds up feeling like home. In other words… It's good.
Sons of the East pride themselves on their rowdy, raucous and oh so rambunctious live shows, working off what they call the 'tear-jerkers' and the 'boot-stompers'. They've been doing this quite successfully, so much so that it's gathered them local and international attention from radio stations, websites and blogs, a couple of old ladies in Yass, and plenty of venues and festivals across Australia including Festival of the Sun, Party in the Park and Surry Hills Festival. Sons of the East have graced the stage with the likes of The Cat Empire, The Rubens, The Jezabels, Husky, Willy Mason and Megan Washington and are set to play Lost Paradise over the 2015/16 New Year.
The band recently released Into The Sun, the first single from their newest EP, Already Gone, out November 6. Do yourself a favour, have a listen online, or get off your arse and catch them at a live show where they'll have you dancing like a tourist running along the hot sand in summer.
"Sons of the East are the shit"- Old Ladies in Yass
"I'd been told they were a great live act, backed up by stories of shenanigans. Taking this recommendation I watched Sons of the East music videos and although they are great, they really didn't prepare me for the party vibe that they were rumoured to unravel live." – James Adams, MINC Magazine
"You know those rare experiences where you feel as though you're witnessing something big in the making? Something that's going to be bigger than Ben-Hur but it's just at his knees right now? Catch them on the road anytime soon and they'll give you that kick." – Surfing Life Magazine
"What we like about this band is their Australian twist and contemporary take on the more traditional Folk music style…But ultimately what really makes this band shine is their stage presence, (they are a must to see live!)."- Vinyl Garden