LET ME DOWN EASY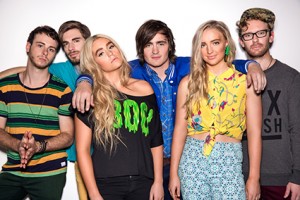 Brisbane pop 6-piece, Sheppard, have become one of 2013s breakout radio acts with the sing-a-long hit "Let Me Down Easy" igniting airwaves across Australia and internationally whilst continuing on their trajectory to chart domination.
Sheppard features siblings Amy, George and Emma Sheppard along with friends Jay Bovino, Michael Butler and Dean Gordon, together creating a unique mix of party atmosphere and good-time melody that is taking Australia by storm.
2012 saw the band on the road both at home and in the UK, USA, The Phillipines, South Africa, and even India where they played the NH7 Weekend festival in Pune, Mumbai, Delhi and Bangalore. So far in 2013, Sheppard have toured far and wide across the east coast of Australia achieving major success in the process.
Sheppard's hit single, 'Let Me Down Easy' debuted in the Australian top 50, becoming one of the biggest independent hits on Australian radio this decade, with adds across the Nova and Austereo networks. This follows on from the radio success story of the band in the USA, where they've had over 750 spins on commercial radio and cracking the top 100 on the CMJ charts. On their most recent US tour they sold out Crystal Ballroom (1500cap) in Portland, where the song was #1 most requested on Portland's KNRK 94.7.
2013 has seen Sheppard hit Australia's highways hard, performing around the country in many paubs and clubs as well as huge Rock The Schools campaign throughout New South Wales and Victoria. Combined with their debut EP release and relentless national touring has seen the band remain committed to their growing audiences throughout Australia throughout this year and well beyond. Recently, Sheppard performed already at the Sonic Bang Festival in Thailand alongside the likes of Jason Mraz, Pitbull and Owl City.
Having now sold in excess of 100,000 copies of their debut EP Sheppard recently performed at both Broncos and NRL football final matches to crowds of over 30,000 per show. Coinciding with the release of heir new single, 'Hold My Tongue' did then jet off to New York City to perform at the prestigious CMJ festival, as well as shows in LA and London, returning for a pit stop in Perth for their first ever shows in Western Australia.
Sheppard are currently in Australia recording their forthcoming debut album – the anticipated follow-up to their undeniably acclaimed debut.
LET ME DOWN EASY

HOLD MY TONGUE

Live On Balcony TV, New York – Balcony TV

https://www.facebook.com/wearesheppard
http://wearesheppard.com/
https://twitter.com/wearesheppard
Tour Dates
| | |
| --- | --- |
| Date | Venue |
| N/A | N/A |
| N/A | N/A |
| N/A | N/A |