Daniel Lee Kendall is an extraordinary singer-songwriter who has busied himself this past 12 months, unveiling his first two releases and building a dedicated live following.
Hailing from the NSW Central Coast, the triple j Unearthed winner garnered both critical and fan attention in 2010 with his stunning debut EP and its eponymous single Lost in the Moment. Now, DLK has released his sophomore EP Talk The Night Away complete with bright and heart-warming single Hold Me Now.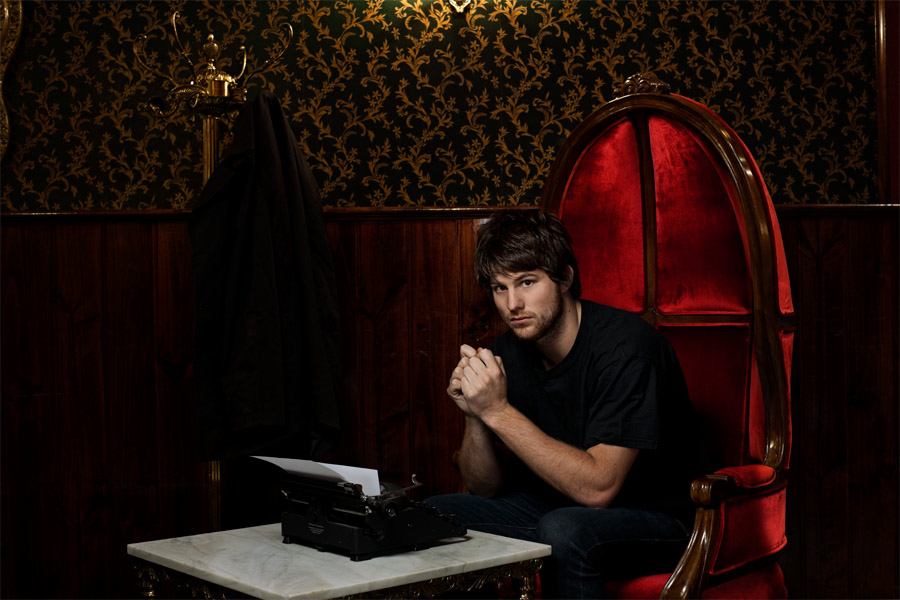 Bojah's high energy dshows have the industry abuzz. Both 'The White Line' and the new self titled single 'Go Go Chaos' currently sit on rotation with triple j. BONJAH are almost everywhere, and with the reputation as one of the hardest working bands around, it's great to see their efforts being rewarded. Momentum has gathered, BONJAH are set to explode.
Joining BONJAH on their 'Go Go Chaos' National Tour will be triple j darling / multi instrumentalist Daniel Lee Kendall and WAMI award winners The Joe Kings. The band are excited to head back out around Australia, sharing their new material with their loyal fans and putting on a brand new live show with two of their favourite up and coming acts.
Presented by triple j and Street Press Australia, BONJAH's 'Go Go Chaos' National Tour kicks off in WA mid August covering all states through to September. Tickets for all shows are on sale now www.bonjahmusic.com.
"Just when you think you've got BONJAH's sound pegged, they deliver this great, subtle pop song. I reckon they're one of the hardest working acts in the country at the moment." – Dom Allesio, triple j
"'An explosive force in Australian music." – Drum Media
'Go Go Chaos' released on iTunes Friday 15th July (Worldwide), in stores Friday 15th July (Australia) & Monday 25th July (New Zealand) through Shock Entertainment.
Triple j, Street Press Australia, Shock Records, Lemon Tree Records, Twenty-Two & Premier Artists Present
BONJAH
'Go Go Chaos' National Album Tour
Wednesday 17th August
Indi Bar
Scarborough, WA
tickets on sale from www.oztix.com.au
Thursday 18th August
Mojos
North Fremantle, WA
tickets on sale fromwww.oztix.com.auFriday 19th August
Rock Inne Tavern
Karragullen, WA
tickets on sale from www.oztix.com.au
Saturday 20th August
Settlers Tavern
Margaret River, WA
tickets on sale from www.oztix.com.au
Sunday 21st August
Redcliffe On The Murray
Pinjarra, WA
tickets on sale from www.oztix.com.au
Saturday 27th August
Corner Hotel
Melbourne, VIC
tickets on sale from www.cornerhotel.com
Friday 2nd September
Great Northern Hotel
Newcastle, NSW
tickets on sale from www.oztix.com.au
Saturday 3rd September
Oxford Art Factory
Sydney, NSW
tickets on sale from www.oxfordartfactory.com
Sunday 4th September
Brass Monkey
Cronulla, NSW
tickets on sale from www.brassmonkey.com.au
Wednesday 11th September
Sol Bar
Maroochydore, QLD
tickets on sale from www.oztix.com.auwww.oztix.com.au
Thursday 8th September
Great Northern Hotel
Byron Bay, NSW
tickets on sale from www.thenorthern.com.au
Friday 9th September
The Zoo (w/ The Black Seeds)
Brisbane, QLD
tickets on sale from www.thezoo.com.au
* Daniel Lee Kendall and The Joe Kings not performing
Saturday 10th September
Reggaetown World Music Festival
Cairns, QLD
tickets on sale from www.reggaetown.com.au
* Daniel Lee Kendall and The Joe Kings not performing
Friday 23rd September
Republic Bar
Hobart, TAS
tickets on sale from www.republicbar.com


Saturday 24th September
Jive Bar
Adelaide, SA
tickets on sale from www.jivevenue.com