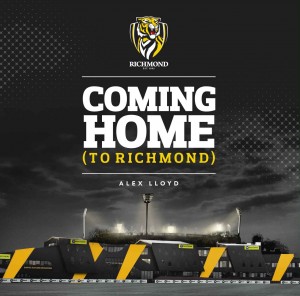 With over 5,000 people in attendance at ME Bank Centre in Richmond yesterday, prolific singer/songwriter Alex Lloyd revealed his tribute to the Tigers with a re-worked Richmond themed version of his song 'Coming Home' which will be available via itunes for pre-orders as of today Monday, Feb 17th and officially released this Friday, 21st February.  A portion of the proceeds from sales of the single will be donated to Richmond's preferred charity partner The Alannah and Madeline Foundation.
The song initially came about through the connection between Alex's original song 'Coming Home' and the Tigers membership theme for 2014. Alex met with Richmond and saw a connection with the two songs and as he's a (NRL) West Tigers fan himself, be began working with the Club to create lyrics for the re-worked version of 'Coming Home'. Alex has now adopted Richmond as his AFL team!
The coming home theme is based on several objectives for the Richmond Football Club in 2014. This year Richmond will field a stand-alone team in the VFL for the first time in many years, bringing official matches back home to Punt Road Oval (ME Bank Centre). While other clubs have relocated away from their home grounds, Richmond has been determined to restore it's facility. It recently completed a $20 million redevelopment of the training and administration home base at Punt Road Oval. And for the first time since 2010, the Tigers will play all of their home games in Melbourne during the 2014 season, after three years of hosting matches in Darwin and Cairns.
"We are thrilled to be able to work with an artist of the calibre of Alex Lloyd, whose original Coming Home song resonates strongly with our themes for the 2014 season," said Richmond CEO Brendon Gale. "It's a unique opportunity for our Club to have our own words attached to an iconic Australian song, and we hope all of our fans enjoy the end result. "We are extremely proud of the work we've done in the last few years to invest in our home at the ME Bank Centre, including the redevelopment of the facility, as well as working hard to return all of our home games to Melbourne, launch our own VFL team and bring official games back to Punt Road Oval. It's also about giving our loyal and passionate members and fans a place they can call home, and we've been determined to provide that."
Alex Lloyd said: "Having been a fan and lifelong supporter of the Australian sporting industry, I am exceptionally proud & overwhelmed to have been asked to recreate one of my songs for Richmond Football Club & look forward to cheering on the tigers both on stage and on the sidelines throughout 2014!"
Alex Lloyd is quite simply, one of the finest and most popular singer-songwriters Australia has produced. His musical career started in to his teenage years and with this initial stage & band experience proving to be a valuable start, Alex decided to use his own name & in 1999 released the first of his hugely successful albums, 'Black The Sun'. He has since had a remarkable career that has garnered critical & public acclaim in Australia and overseas. His six albums & singles have collectively sold more than 700,000 copies combined with having scored 4 ARIA Awards, an APRA Award + countless nominations for both his music and film soundtrack work.
It's fair to say that Alex Lloyd is more than an accomplished album artist with a penchant for experimentation and an intuitive gift for melody… his now iconic single, "Amazing" was not only voted Song of the Year in the internationally renown listener voted Triple J Hottest 100 poll in 2002 – it also scored the prestigious APRA Award for Song of the Year and was also the most played song on Australian radio during that time.  Since the 'Amazing' period Alex has continued to release further critically acclaimed albums each being accompanied by a swag of hit singles, including the original version of 'Coming Home' released in 2003. Alex recently returned home to Australia after a five-year stint living and working in London and has recently released his latest album 'Urban Wilderness'.
'Coming Home (to Richmond) is available now on iTunes:
https://itunes.apple.com/au/album/coming-home-to-richmond-single/id818984423?ls=1
For more information, visit – http://www.alexlloyd.com/
CHARITY INFORMATION
Richmond's preferred charity partner, The Alannah and Madeline Foundation<http://www.amf.org.au/>, is a national charity aimed at keeping children safe from violence and bullying and its devastating impacts. The partnership demonstrates Richmond's commitment to leadership within the community.  The Club is committed to support five new schools into the Better Buddies Framework each year. Currently Richmond is helping protect 2,500 Australian children against bullying, and aims to increase this to 3,750 children by 2014.