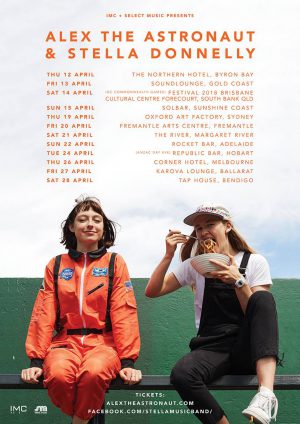 Two of Australia's most exciting songwriters Alex the Astronaut and Stella Donnelly are thrilled to announce they are joining forces for a co-headline tour this April. With guitars in tow, Alex the Astronaut and Stella Donnelly will travel through seven states to play 12 shows, with supports to be announced. Tickets are on sale midday this Thursday 15 February from http://alextheastronaut.com/.
Take a minute to rewind back to September last year, when the annual BIGSOUND conference took over Brisbane's Fortitude Valley. Alex the Astronaut had just had the highest attended showcase and Bigsound Buzz named her the most talked about artist of the week. Stella Donnelly left her crowds breathless and took out the inaugural Levi's Music Prize. Two very different sounding artists with one clear commonality – they write honest music that makes an impact. They were introduced during that week and needless to say, they became fast friends. "We both think the other is funny and we like each other's music… Stella can't really bake. And Alex just made her first cake. Thought it'd be a good recipe to head out on the road together!" Et voila! We have an early contender for co-headline tour of the year.
The release of Alex the Astronaut's 2nd EP See You Soon last year took her from 'artist to watch' to the name on everyone's lips. The EP's lead single 'Not Worth Hiding' landed at #23 in this year's triple j Hottest 100 after turning heads like no other song did last year. Its release coincidentally timed with the beginnings of the same sex marriage plebiscite, slowly growing into its unofficial anthem where it was blared at rallies around the country. The innocent, straight up and pure nature of Alex the Astronaut's – aka Sydney-based Alex Lynn – style of writing saw praise come in from all over the globe including from the Rocket Man himself Elton John who called the single, "fabulous", with Pedestrian sharing, "Feel like having a little quiet moment to yourself on the first morning of spring? Hit play. Go on. Whatever it is you're doing can absolutely wait. This is worth it." Alex has been invited to perform at world-renowned music showcase, the UK's The Great Escape this year, and is excited to share that she has packaged the See You Soon EP and debut To Whom It May Concern EP as a double-vinyl release which will be available on this upcoming tour.
At the beginning of 2017 Stella Donnelly released her debut EP Thrush Metal, a bold and unapologetic five-track release written over the space of two years. Led by the single 'Boys Will Be Boys' – a powerful account of society's tendency to victim-blame, rather than face up to perpetrators – its release signalled the start of a cracking year for the Perth-based Donnelly, who Pitchfork heralded as "one of Australia's buzziest young singer-songwriters". As well as taking out the inaugural Levi's Music Prize at BIGSOUND last year, Stella won the J Award for Unearthed Artist of the Year, a slew of WAMIs and has been invited to perform at the UK's The Great Escape and SXSW in Austin this year. Her brutally honest and witty observations of people and relationships are transformed into blissful poems and give a glimpse into what it's like to be a millennial woman in the age of Trump, Tinder and third wave feminism.
It's a musical bond born in Brisbane, and they're about to take it national. Don't miss your chance to see these two incredible musicians before the rest of the world discovers the magic that is Alex the Astronaut and Stella Donnelly.
Alex the Astronaut and Stella Donnelly Co-headline Australian tour
Tickets on sale 9am Thursday 15 February from http://alextheastronaut.com/
Thursday 12 April – The Northern, Byron Bay NSW
Friday 13 April – Soundlounge, Gold Coast QLD
Saturday 14 April – Festival 2018 Brisbane –  Cultural Centre Forecourt,  QLD
Sunday 15 April – Sol Bar, Sunshine Coast QLD
Wednesday 18 April – Oxford Art Factory, Sydney NSW –  NEW SHOW
Thursday 19 April – Oxford Art Factory, Sydney NSW –  SOLD OUT
Friday 20 April – Fremantle Arts Centre, Perth WA
Saturday April 21 – The River, Margaret River WA
Sunday April 22 – Rocket Bar, Adelaide SA
Tuesday April 24 – Republic Bar, Hobart TAS
Wednesday 25 April – Corner Hotel, Melbourne VIC – NEW SHOW (Selling FAST!)
Thursday 26 April – Corner Hotel, Melbourne VIC – SOLD OUT 
Friday 27 April – Karova Lounge, Ballarat VIC
Saturday 28 April – Tap House, Bendigo VIC
Follow Alex the Astronaut:   – Facebook | Twitter | Instagram
Follow Stella Donnelly: – Facebook | Twitter | Instagram
WATCH: Alex the Astronaut 
WATCH: Stella Donnelly