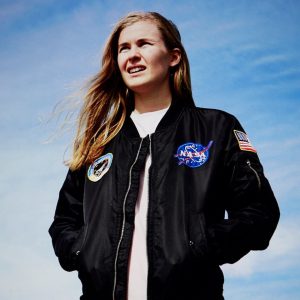 "a song that's going to resonate so wonderfully" – Linda Marigliano (triple j Good Nights)
Alex the Astronaut is fresh out of the triple j Like A Version studio and is thrilled to announce she will be hitting the road for the national See You Soon EP Tour this October. She will tour Brisbane, Byron Bay, Sydney, Wollongong, Melbourne and Perth in support of her forthcoming 2nd EP, See You Soon, out October 6 via her own label Minkowski Records, with supports to be announced.
Alex the Astronaut's new single 'Not Worth Hiding' is a coming of age song in its purest form, a song that "could not have come at a better time" (Pedestrian TV). 'Not Worth Hiding' documents a big realisation Alex had at aged 16 written into one of the catchiest songs you'll hear bounded by thumping drums and simple chords. It's a raw, deeply personal track about finding yourself and being your true self in love. For her first ever Like A Version, Alex the Astronaut performed 'Not Worth Hiding' in its first ever radio performance and a special cover of 'If I Could Start Today Again' by Paul Kelly – one of her formative influences.
'Not Worth Hiding' is taken from Alex the Astronaut's forthcoming 2nd release, the See You Soon EP, which continues the journey of her signature stream-of-consciousness lyrics. The EP covers a range of themes close to the singer and guitarists heart – love, life, the wonders of meeting someone in New York and what Sydney is like in the winter. The See You Soon EP is five insightfully written tracks that will strengthen Alex the Astronaut's standing as one the most exciting young songwriters of our time.
Seeing Alex the Astronaut live is an experience in itself, armed with just a guitar she keeps an unimaginable hold over the audience, performing with "confidence, charisma and warmth." (Lunchbox). Having toured this year with Lisa Mitchell, Dustin Tebbutt, Montaigne, and played her debut performance at Splendour In The Grass, these will be Alex the Astronaut's first national headline shows and you won't want to miss out.
ALEX THE ASTRONAUT – See You Soon EP Tour + Special Guests
Tickets on sale now- visit: alextheastronaut.com
Thursday 19 October – Black Bear Lodge, Brisbane – Tickets here: www.oztix.com.au
Saturday 21 October – The Treehouse, Byron Bay – Details: www.treehousebelongil.com
Thursday 26 October – The Lansdowne, Sydney – Tickets here: www.oztix.com.au
Friday 27 October – Uni Bar, Wollongong – Tickets here: www.moshtix.com.au
Saturday 28 October – Howler, Melbourne – Tickets here: www.moshtix.com.au
Friday 3 November – Jack Rabbit Slim's, Perth – Tickets here: www.jackrabbitslims.net
Alex the Astronaut is also appearing at:
Thursday 7 September – BIGSOUND (Oh Hello! @ 10:40pm)
Sunday 1 October – Wildwood Festival, Cassegrains Winery, Port Macquarie
Saturday 28 November – The Plot, Parramatta Park
28-31 December – Lost Paradise, Glenworth Valley
WATCH & LISTEN TO ALEX THE ASTRONAUT –