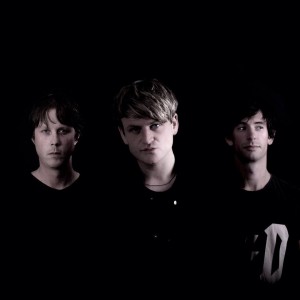 Dunedin's punk sons of the modern age, Die!Die!Die! are ready to bust through the back door with their fifth album under their grubby arm pits, stoked as punch to have pulled together their next blistering installment in the Die!Die!Die! legacy. Die! Die !Die!  'S W I M'  is set for release August 15th 2014  on LP, CD and digital via the band's own label Records Et cetera (& through Black Night Crash Records)
They share their first singles, 'Crystal' and 'Get Hit', in the form of their fresh-off-the-cutting-room-floor music videos.  Watch by clicking the image below.
https://www.youtube.com/watch?v=UkHuB6IJb1I
'S W I M' is an 11 track opus formed from the wall-sweat of Europe's best clubs, scratched off the tour van floor and from down the back of the couch-surfed accom. Produced by the band and Chris Townend (Portishead, D12, Violent Femmes) from The Lab in Auckland to Lightship 95 in London, 'S W I M's sparse geographical consummation is as expansive as their definition of punk and pop music.
As an internet acronym for 'someone who isn't me',  'S W I M's title suggests that Andrew Wilson is stepping out of his own comfort zone lyrically and bringing new themes and broader strokes to the mighty crash and boom of Die Die Die's sound. Indeed he has described it himself as "an album about surviving… which is very positive".
Driven by an obstinate need to create and perform music Die!Die!Die! unapologetically slap S W I M in your lap ten years since their very first shows. To celebrate the release of 'S W I M', Die! Die! Die! return to Australia for exclusive shows as follows:
DIE! DIE! DIE!  S W I M in AUSTRALIA plus GUESTS
* Thursday Sep  4th   – Karova Lounge, Ballarat VIC + Guests  Tickets via http://www.oztix.com.au/
* Friday Sep 5th – Ding Dong Lounge, Melbourne VIC + Guests  Tickets via http://www.oztix.com.au/
* Saturday Sep 6th – Brisbane Hotel, Hobart TAS + Guests Details – https://www.facebook.com/events/677822518953726
* Sunday Sep 7th – The Enigma Bar, Adelaide SA + Guests  Tickets via http://www.moshtix.com.au
* Thursday Sep 11th – The Small Ballroom, Newcastle NSW + Guests Tickets via http://www.oztix.com.au/
* Friday Sep 12th – Good God, Sydney NSW + Guests Tickets via http://www.oztix.com.au/
* Saturday Sep 13th – RAD, Wollongong NSW + Guests Tickets via https://thelittleboxoffice.com/yoursandowls/event/view/15368
Die!Die!Die! – SWIM out August 15th 2014
On LP, CD and digital via the band's own label Records Et cetera through Black Night Crash Records in Australia
Die!Die!Die! on the web
Website: www.diediedie.co.nz
Facebook: www.facebook.com/diediedieband