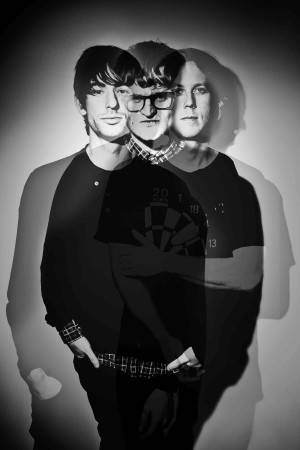 'Harmony' is the brand spanking new album from Dunedin's internationally acclaimed band DIE! DIE! DIE! making this their fourth studio album. Recorded at Blackbox Studios, France from start to finish 'Harmony' proves DIE! DIE! DIE! are continuing on their evolution to perfect their sound.
'Harmony' brings together the raw energy and emotion from their live shows, encapsulating savant pop elements with their DIY punk philosophy.  Produced by Chris Townend (Portishead, D12, Violent Femmes), and joining founding members Andrew Wilson and Michael Prain is Shayne P. Carter on backing vocals, 'Harmony' is set to be THE album of 2012.
Rounded out by bassist Michael Logie (The Mint Chicks, F In Math, Opossom), DIE! DIE! DIE! will tour their face melting shows in Australia this August/September, continuing to evoke fierce loyalty in fans and burn as many bridges as they cross.
'Harmony' is an album you want to hear and DIE! DIE! DIE! live on stage is an experience you don't wanna miss!
IMC & VICE Presents
Die! Die! Die! –  ' Harmony In Australia' Album tour 2012 + guests
Wed 22nd Aug      – The Great Northern, Newcastle (NSW) + The Go Roll Your Bones
Tickets available from http://www.oztix.com.au
Thu 24rd Aug      – The Standard, Surry Hills (NSW) + The Go Roll Your Bones & Sweet Teeth
Tickets available from http://www.moshtix.com.au
Fri 24th Aug      – Yours & Owls, Wollongong (NSW) + The Go Roll Your Bones
Tickets available from http://www.moshtix.com.au
Sat Aug 25th      – Ding Dong Lounge, Melbourne (VIC) + Damn Terran
Tickets available from http://www.oztix.com.au

Thu 30th Aug     – The Zoo, Brisbane (QLD) + Royal Blood
Tickets available from http://www.oztix.com.au
Fri 31st Aug       – Elsewhere, Gold Coast (QLD) + Royal Blood
Tickets available from http://www.oztix.com.au

Sat 01st Sep       – The Spotted Cow, Toowoomba (QLD) + Royal Blood
Tickets available from http://www.oztix.com.au
www.diediedieband.com |   www.facebook.com/diediedieband
NEW ALBUM 'HARMONY' AVAILABLE IN STORES & ONLINE NOW
http://itunes.apple.com/au/album/harmony/id544368343
Catch DIE!DIE!DIE! on tour soon with these special guests:
www.facebook.com/thegorollyourbones
www.facebook.com/SweetTeethAU
www.facebook.com/DamnTerran
www.triplejunearthed.com/ROYALBLOOD