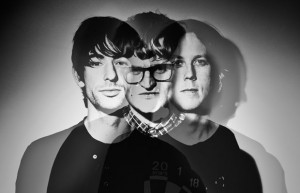 Hailing from what is considered NZ's iconic music city, Dunedin, founding members Andrew Wilson and Michael Prain cut their teeth in the live music scene by playing in noise bands around town. It wasn't until 2003 that they formed Die! Die! Die!, but they already had the hard working DIY ethos that continues even now. Taking their inspiration from likeminded artists HDU, Bailterspace and the Dead C, the band have always given their all at every show – the result being a band that brings persistent ferocity and energy to live performances and leaves the punters with an intense, euphoric feeling post show.
Never a band to rest, Die! Die! Die! continue to live the true rock n roll lifestyle –touring  extensively worldwide between albums. They have successfully carved out a niche for their sound and grown their fan base each time they doss down.2005 saw the band record their debut self titled album in Chicago under the tutelage of uber-cool Steve Albini, who brought intensity to their raw, minimal sound with his experience in bands Big Black, Rapeman, Shellac,  as well as producing such iconic albums as Nirvana's In Utro.
A dilapidated barn in New York was the scene for the second album. Enlisting the help of their long time friend and mentor Shayne P. Carter (Bored Games, Doublehappys, Straitjacket Fits, Dimmer), Die! Die! Die! released Promises, Promises to critical acclaim (including 8/10 reviews in The Guardian and NME) in 2007. FORM, released in 2010 saw Die! Die! Die! as one of the first new artists contacted to the reformed Flying Nun – further proving their worth as an important band becoming part of this historic label. The album was produced by label mate Nick Roughan (Skeptics), who encapsulated their live sound even further, strengthening the unyielding, sometimes reckless and menacing sound, combining it with the bursting melodies the band are known for.
In 2012, Die! Die! Die! released Harmony, their fourth studio album recorded at Blackbox Studios, France.  This album proves the band continues on their evolution to perfect their sound. Harmony brings together the raw energy and emotion from their live shows, encapsulating savant pop elements with their DIY punk philosophy.  Produced by Chris Townend (Portishead, D12, Violent Femmes), and bringing back Shayne P. Carter on vocals, Harmony attained the same level of international critical acclaim. Bringing on board bassist Michael Logie (The Mint Chicks, F In Math, Opossom), Die! Die! Die! Have recently completed yet another grueling world tour … and the good news is that they will tour their face melting shows in Australia with a few exclusive shows in January 2014 with details as follows:
Friday January 17th  – Ding Dong Lounge with  guests, Love Of Diagrams.
Tickets from http://dingdong.oztix.com.au/
Saturday January 18th  – Spectrum, Darlinghurst Sydney with guests SHE REX and Seating Plan
Tickets from http://www.moshtix.com.au
Be there to witness this in action….
And this
https://www.facebook.com/diediedieband