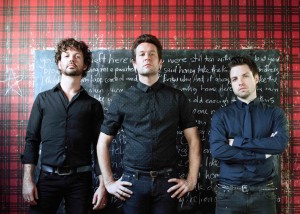 One of Australia biggest bands will be the headline act at Bullers Rock in the Vineson Easter Sunday 8th April.  Bullers are delighted to have secured such a big name as the showcase band of their four act Rock in the Vinesevent.
Eskimo Joe, one of Australia's critically acclaimed, multi-award winning trios featuring KavTemperley, Stu MacLeod and Joel Quartermain, have released their 5th studio album Ghosts of the Past that includes smash hits Echo and Love is a Drug..
Their career so far has seen them grow from much-loved indie pop rock locals out of Fremantle, Western Australia to stadium rock stars across Australia.  Their early EP's, Sweater and Eskimo Joe closely followed by their first album, Girl, struck gold in the hearts of many and saw them begin to really make their mark as an up-and-coming Australian band.
Hungry for more, the band proudly presented their second full-length album, A Song Is A City, to a massive double-platinum reception.  The single, "From The Sea", is often dubbed their anthem by public and press alike.
As a joke that then exploded, the band entered the studio for their third album declaring that they could make a stadium rock album.  Fulfilling their promise, Black Fingernails, Red Wine, shot up the album chart in Australia and cemented the band on the worldwide circuit.  Subsequent tours to the US, Germany, Switzerland, Austria, Netherlands and the UK followed.
Inshalla their next album landed an absolute massive rock song with "Foreign Land" and a collection of pop rock golden tunes to carry the band forward. Their most recent album Ghosts of the Past released in 2011 featured the dance inspired hit Love Is A Drug and new single Speeding Car currently hitting the national airwaves.
"We wanted to bring our patrons a huge act as our headline for Easter 2012, one who has not played in this district and are current chart-toppers and Eskimo Joe fills that easily, their new album is just amazing, their past hits iconic, Black Fingernails Red Wine could be written about lots of winemakers, my fingernails are always black when working with red wine" says Andrew Buller, "we are very excited to have them play here at our winery in Rutherglen".  "They will actually be recording around that time but have agreed to come out of the studio to rock Rutherglen and belt out all their hits for their fans".
"Everyone seems to love them – daughters as well as fathers, mothers and sons – they cover a wide range of music lovers and are red hot at the moment, they have their own unique sound and only do the biggest festivals" says Andrew Buller.
Bullers will deliver the four act show also featuring Tex Perkins (The Cruel Sea, Beast of Bourbon, The Man in Black), exciting all  girl band Stonefield that have performed at Glastonbury and Big Day Out to rave reviews , and emerging Melbourne band Zoophyte featuring Andy Lee from Hamish and Andy fame. Early Bird Tickets are $69.95 (includes Rock in the Vines glass or stubby holder), teenagers GA $35.00, Marquee Tickets $109.00, children under 13 will be given free entry; a glass of wine will be five dollars as will beers, various delicious foods will be available in the beautifully lawned concert area situated in-between the vines, gardens and bird park. Patrons can also venture into the Buller's Award Winning Cellar Door to taste some of the Australia's best loved wines.
Eskimo Joe and special guests at Bullers Five Star winery promises to be the highlight event over the big Easter break.
For tickets contact Bullers on 0260 329 660, E: cellardoor@rlbullerandson.com.au from 14th Jan or Tickemaster atwww.ticketmaster.com.au PH: 136 100 on sale NOW