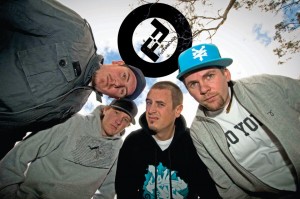 FULL TOTE ODDS Present….
The 'Place Your Bets' Series of Album Launches
Ladies & gentlemen, boys & girls….from the State that brought us Hilltop Hoods, Funkoars & Vents, we would like to introduce yet another talented musical crew – Full Tote Odds. Featuring members Levelheaded, Slats, Eslev, Ross Read and DJ Hacksaw, this Adelaide Hill collective c leverly combine hip hop with a diverse array of traditional sounds (including pop, dance, motown and northern soul) they've already caused a groundswell of reaction courtesy of their radio hits, 'Southern Wind' and 'What's Going Down' via the brand new debut album 'Place Your Bets' through Obese Records. Although it is a debut release, this album documents an evolution and marks  FTO's arrival at a destination of musical dexterity that has given them  the ability to produce upbeat tunes that are both cleverly  crafted and thoroughly infectious.
Their latest single, 'Adrenaline' is sure to repeat the success on the airwaves as its predecessors with its insistent guitar line, world class flow and massive vocal hook & catchy soul style and is sure to become another FTO anthem and a live highlight as Full Tote Odds start hit the road in  2013 to promote the new album. With members having had plenty of experience via previous bands & musical projects, Full Tote Odds now commence a new live journey on stages across Australia presenting their infectious hip hop brand to the masses.
Having just completed a tour with America's  popular serious hip hoppers, Slaughterhouse, FTO present the first in a series of nationwide launches as follows:
Full Tote Odds – 'Place Your Bets' album Launch (Victoria)
+ Special Guests,  Eloji and  Citywide Krew
* Thursday 11th April   – Workers Club, Melbourne – Tickets from http://theworkersclub.com.au
* Friday  12th April   – Basement 159, Geelong (159 Moorabool Street) Show Details – https://www.facebook.com/basement159
* Saturday  13th April   – Karova Lounge, Ballarat. – Tickets from http://www.oztix.com.au
For a musical taste of what's to come, check out the recent singles:
http://www.youtube.com/watch?v=kYV5aRgPpEA