HEIN COOPER
Australian Return Shows with Special Guests from Canada, Hey Major
After a very brief trek back to Australian shores earlier this year with previous single "Hear My Voice" and then playing a bunch of sold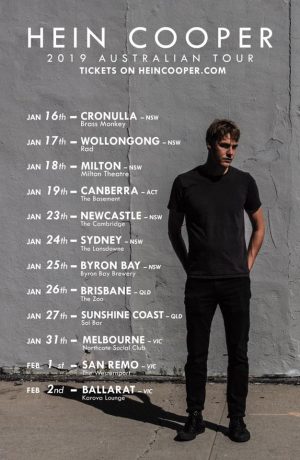 out homecoming shows across the country, Hein Cooper is back again from writing in British coastal towns and cinematic French chalets with follow up single "Over Again" – the second taste of new music from the prolific singer-songwriter.
The result is fresh; the foundations of the Australian's folk/indie pop styles are still present, with hundreds of thousands of kilometres or experiences under his belt, it's now mixed with new genres and inspirations. "I think a pop song can be incredibly poetic and still clear, and also be an exciting mix of genres. That's what I've aimed for throughout my new music." "Over Again" is a song about disbelief, the denial you feel when something you thought was going to last forever ends; "I tend to get overly involved in things so I'm prone  to these kinds of situations."
Releasing his Marcus Paquin (The National, Arcade Fire)-produced debut album 'The Art Of Escape' in 2016 with smash hit single "Rusty" (high rotation on triple j, spins on BBC,  and over 10 million streams on Spotify) and break out title track "The Art Of Escape", Hein spent the better part of that year touring the country supporting James Bay and again  co-headlining with Lanks, before returning briefly for Falls Festival at the end of the year.
Not afraid to mesh acoustic with electronic and developing a dynamic and entertaining live show combining those elements, as well as proving equally proficient in both lush and stripped back moments, debut album 'The Art Of Escape' was an accomplished start for the young artist. From there, he had his sights set on the world.
Performing over 140 shows over 18 months throughout Europe, the UK and North America, Hein headlined tours, played festivals, and supported artists such as Lukas Graham, Bears Den, Peter Bjorn and John, and Edward Sharpe and The Magnetic Zeroes, which led to airplay in over 30 countries at over 150 stations, and a legion of fans all across the globe.
The threads of new music began to form for Hein Cooper during his time living in Cornwall, where British coastal life provided an outlet for him to reflect and muse on the wealth of new experiences touring "The Art of Escape" had brought him. The first entry in this new chapter was the first taste of new music in April 2018 with "Hear My Voice", a song about falsehoods and self-constructed versions of ourselves. Co-Produced by Will Hicks (Ed Sheeran, James Hersey) and the singer himself in the UK. Receiving rotation on triple j and a wash of other radio stations in Australia and around the world, and closing in on its first million streams, "Hear My Voice" showed a glimpse of the new sounds Cooper is producing. "I think we've had enough time to see what styles are melding well together and what aren't," Cooper says of cross-genre work, moving forward. "There's this new confidence to the 'anything goes' attitude of the last ten years."
Excited to bring this new music back home to Australia, Hein is readying "Hear My Voice" and a collection of new material for upcoming headline shows nationally in January and February. Joining Hein on all shows will be Canada's talented multi­-instrumentalist brothers, Mickaël and Raphaël Fortin known Hey Major who have also just unveiled the new video for theit stunning new single, 'Brother' (see below)
For full tour dates & info visit Hein Cooper –
Listen to Hein Cooper
Over Again –
Hear My Voice –
Visit Hey Major – https://www.facebook.com/heymajor/
Check out the new single – Brother –