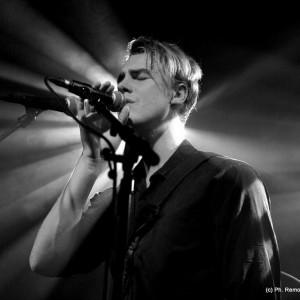 Last year Hein Cooper was busking. This year his stunning debut 'The Art of Escape' has been spinning on triple j, he's headed off to find his muse in Canada,  he's had spins on the UK's BBC radio, toured UK, Europe, Canada & USA and he's put the finishing touches on his debut album set for an early 2016 release.
The first taste of the new album comes in the form of 'Rusty', a breezy summer slice of acoustic pop, perfect for kicking back and watching the world go by…. but with a deeper message for those who want to dig below the surface. Having spent much of 2015 in Canada where he recorded the forthcoming album with with producer Marcus Paquin (Arcade Fire, The National, The Local Natives, Hey Rosetta), Hein is heading back home for the holidays, playing a slew of amazing shows, kicking off with Australian Music Week and Mullum Festival, and winding through November and December to his triumphant appearance at Falls Festival, rounding out what has been an amazing year.
Rusty came about while improvising over loops at a show in Sydney two years ago, with a killer riff emerging that Hein took and wrote the song over the top. "I often struggle with the state of the world and how society functions "I often struggle with the state of the world and how society functions in such a cold and divided way," said Hein. "But what hurts me most is the way so many people seem to bury these feelings and glue a false sense of happiness to themselves rather than confront the way they actually feel. I'd rather be authentic in my sadness than false in my happiness. I based 'Rusty' on this idea. I found that creating a positive happy sound underneath melancholic lyrics captured this feeling because it represented the fight between me and the world's obsession to be happy all the time. Kind of like the opposite of Coldplay's technique in 'Parachutes' of writing positive lyrics with a melancholy sound."
Hein Cooper returns to Australia with his first shows in Sydney at the inaugural Australian Music Week Showcase followed by shows and festivals in Mullum, Brisbane, Sydney and Falls in Lorne & more.
CATCH HEIN COOPER LIVE
* November 19th to 20th  – Australian Music Week Showcase Series, Cronulla NSW (includes guest performance with With Ben Ottewell (Gomez Thursday   19th Nov at The Brass Monkey)
* Saturday Nov 21st – Mullum Festival, Mullumbimby NSW – Details – http://www.mullummusicfestival.com/
* Sunday Nov 22nd  – The Bearded Lady Acoustic Sessions, Brisbane QLD – (NB Afternoon from 4.00pm) Details – http://www.thebeardedlady.com.au/
* Saturday Dec 5th  – Gallery Bar, Oxford Art Factory, Sydney NSW + Guests  Tickets from http://www.moshtix.com.au
* Wednesday Dec 30th  –  Falls Festival, Lorne VIC – Details – http://lorne.fallsfestival.com.au/
RUSTY IS AVAILABLE ON ITUNES NOW – https://itunes.apple.com/
Watch Hein Cooper
The Real
The Art Of Escape
Live at  Sala Rossa Montreal, Canada