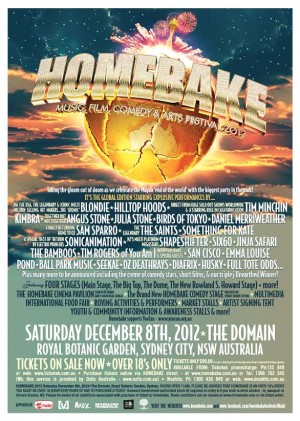 HOMEBAKE Music, Film, Comedy & Arts Festival 2012
The Global Edition
Saturday December 8th, 2012  – The Domain, Royal Botanic Garden, Sydney City, NSW
TICKETS ON SALE NOW  TICKETEK, OZTIX & MOSHTIX
Ticket details here: http://homebake.com.au/2012/tickets/
Taking the gloom out of doom as we celebrate the Mayan 'end of the world' with the biggest party in the park!
It's the Global Edition starring Explosive Performances by….
(Via the USA, the legendary & iconic multi million selling hit makers….the 'atomic')
BLONDIE,
(Direct from huge sold out shows worldwide & a starring  role in Californication)
TIM MINCHIN,
HILLTOP HOODS, KIMBRA, (together but not together) ANGUS STONE, JULIA STONE,
BIRDS OF TOKYO, DANIEL MERRIWEATHER, (finally returning home to OZ) SAM SPARRO, (The legendary) THE SAINTS,
SOMETHING FOR KATE, (A special 'best of' return by electro pioneers) SONICANIMATION, (NZ's multi platinum megastars) SHAPESHIPTER, SIX60,JINJA SAFARI, THE BAMBOOS,  TIM ROGERS of You Am I (with full band & special guests), SAN CISCO, EMMA LOUISE, POND, BALL PARK MUSIC,SEEKAE, DZ DEATHRAYS, DIAFRIX, HUSKY, FULL TOTE ODDS……
plus many more to be announced including the creme of comedy stars, short films, & our triple j Unearthed Winner!
Featuring…
FOUR STAGES (Main Stage, The Big Top, The Dome, the new Rowland S Howard Stage) + more!
THE HOMEBAKE CINEMA PAVILION, (Curated by Kieran Darcy-Smith / Blue-tongue),
The Brand New HOMEBAKE COMEDY STAGE (Presented by Sydney Comedy Festival), MULTIMEDIA, INTERNATIONAL FOOD FAIR,
ROVING ACTIVITIES & PERFORMERS, INTERNATIONAL FOOD FAIR, MARKET STALLS, ARTIST SIGNING TENT,
YOUTH & COMMUNITY INFORMATION & AWARENESS STALLS & more!
Homebake supports YouCan – http://www.youcan.org.au
Tickets available from:
* Ticketek phonecharge: Ph 132 849 or web: www.ticketek.com.au
* Purchase tickets online via HOMEBAKE direct – at www.homebake.com.au or Tel: 1300 762 545
Nb: this service is provided by Oztix Australia – http://www.oztix.com.au/
* Moshtix: Ph 1300 438 849 or web: www.moshtix.com.au
PLEASE BE ADVISED THAT HOMEBAKE IS AN OVER 18's EVENT – YOU MUST BE OVER 18 (EIGHTEEN) YEARS
OF AGE TO PURCHASE A TICKET – Relevant Government authorised photo ID required on entry & if you wish to drink alcohol – ie; passport or drivers licence.
Visit the website – www.homebake.com and http://www.facebook.com/homebakefestivalofficial
NB: Please be aware of all conditions associated with purchase of ticket to Homebake. These can all be viewed on line at
http://homebake.com.au/2012/tickets/