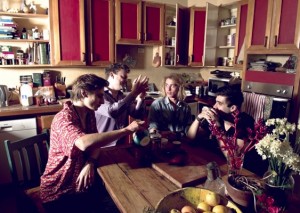 Lime Cordiale are a Sydney based quartet who grew out of the Northern Beaches music scene. Consisting of brothers Oli Leimbach (guitar/clarinet/vocals) and Louis Leimbach (bass/trumpet/vocals), Brendan Champion (trombone) and James Jennings (drums), the group came about after the boys recognised their mutual love of all things pop and their desire to create original and exciting music.  Drawing from their classically trained background and experiences from their awkward teenage years, Lime Cordiale strives to create strong pop music with a fresh sound.
The new EP Faceless Cat features all new tracks including the new single Pretty Girl, and will be officially launched on Saturday 7th July at The Standard in Sydney. Renowned around Sydney's gig scene for their appropriation of varied pop styles and their infectious energy, this show is sure to lift the roof! At first the music seems to span a wide range of genres from pop, ska, jazz and funk, but it soon becomes apparent that Lime Cordiale has created a distinct sound and strong style that belongs to this band alone.
After spotting them at a band competition, Icehouse frontman, Iva Davies, saw something special and promptly made contact.  The mentoring partnership flourished, with Iva and the band heading to the studio to produce some of the tracks.  Lime Cordiale have also hit the road with Icehouse, supporting the iconic Australian band on their comeback tour of 2011. Matilda Brown, daughter of veteran Australian actors Bryan Brown and Rachel Ward, has also turned her attention to the talented quartet, forging a creative partnership with the band directing the film clip for the first single Say It (starring Bryan Brown) and then going on to work on their latest single Pretty Girl.
In 2011, Lime Cordiale played over 60 live shows, released 3 singles, 2 music videos, were nominated for 'Best Song' at the 2011 SMAC Awards, won The Landsdowne Band Competition, reached #1 on the Triple J Unearthed Charts and were Radar Radio's Unsigned find of the month.  It's safe to say that 2012 is going to bring even more with it.
LIME CORDIALE : OFFICIAL EP LAUNCH
SATURDAY 7TH JULY
THE STANDARD, SYDNEY
TIX : http://www.moshtix.com.au/thestandard
PRESS
"affable indie-rock tunes, blended with ska elements to suit the occasion…They endeared themselves to a good section of the crowd" – Fasterlouder
"these men sound like they've been doing this for years – as 'Bonne Nuit, Je Suis' is magnificent guys!" – Aerial Noise Blog
RADIO
"Catchy little ditty…really nice recording too and you gotta love a little `lime cordial' in the warm months" – Rosie Beaton, Triple J
FBi Radio – nominated for a SMAC award for 'Best Song', 'Say It' added to high rotation.
LIVE
Supported The Specials on Australian tour
Regular gigs at The Standard, The Beresford, FBi Social.
Facebook: http://www.facebook.com/limecordiale
Twitter: https://twitter.com/limecordiale
YouTube: http://www.youtube.com/LimeCordiale
Bandcamp: http://limecordiale.bandcamp.com/