PNAU – Announce New album and Australia end of year shows & a huge new single!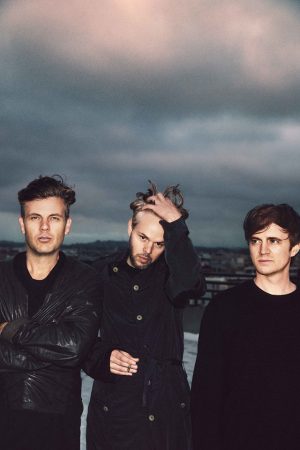 Following on from their massive triple platinum selling summer anthem "Chameleon", Australia's electro pop hit pioneers, PNAU announce the forthcoming global release of their long awaited fifth studio album 'Changa' preceded by the just revealed stunning (& destined to be massive) new single, 'Go Bang'. Consisting of core members Nick Littlemore, Peter Mayes and Sam Littlemore and featuring LA based Shakira Marshall (back-up singer for Ms. Lauryn Hill)  on vocals, bringing a new and electrifying layer to the band's live show.
PNAU have developed a reputation for delivering eccentric dance tracks since their inception in 1999. Changa will be PNAU's first full length album since 2012's 'Good Morning To The Night', produced in collaboration with Sir Elton John and debuting at #1 in the U.K. album charts and in the Top 5 in Australia. With 'Chameleon having already scored over 25 million streams on Spotify alone, Pnau recently unveiled a new 90's rave style single 'Into The Sky'coinciding with a short & hugely successful return to Australian stages as one of the headliners on Listen Out Festivals.
With the much anticipated release of 'Changa' coming November 10th and two coveted ARIA Award nominations, Pnau announce a return to Australia with full band for a handful of headline shows which will undoubtedly be the must attend New Years holiday events happening as follows –
PNAU + Special Guests
Thu Dec 28th – The new HQ Complex, Adelaide SA – Tickets from www.moshtix.com.au
Fri Dec 29th – Beyond The Valley Festival, Lardner Park VIC – Tickets from beyondthevalley.com.au
Sun Dec 31st – Harbour Party NYE , Big Top (Luna Park) Sydney NSW – Tickets from harbourparty.com
Mon Jan 1st – NYD at The Goods Shed, Hobart TAS – Tickets from www.oztix.com.au
Thu Jan 4th – Wollongong University Gardens – NSW – Tickets from www.moshtix.com
Check out PNAU
Facebook  facebook.com/pnaupnau  Instagram  instagram.com/pnaupnau  Twitter  twitter.com/pnau
Web http://pnau.tv
Watch 'Go Bang –
Watch 'Chameleon' live from the 2017 ARIA Awards
Pnau performing Chameleon at The 2017 ARIA Awards with Apple Music

Posted by ARIA on Tuesday, 28 November 2017
"We have travelled many dimensions to create our new material.
We are keen to finally share our mental journey with the universe.
The addition of another Littlemore turns our band into a brotherhood.
The brotherhood is united and invites all to join us out there somewhere."
– PNAU