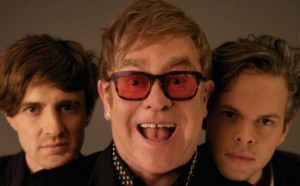 Ladies & gentleman, boys & girls..you've heard us carry on for too long now. We refer to none other than the much talked about union of one of the world's most prolific musicians & performer, Sir Elton John together with one of Australia's most successful & respected dance/pop crossover acts, Pnau. Although the story of this union is now one of fortunate legend, we here at IMC headquarters are too excited to announce that (finally) Pnau will be joining Sir Elton in concert as ELTON JOHN vs PNAU for a very special one off guest performance in Sydney, Australia at the Entertainment Centre on Friday November 16th, 2012.
Presented by our friends and cohorts, CHUGG ENTERTAINMENT have announced this second Sydney Elton John performance (with Sir Elton headlining in solo mode) and praise the lord, Pnau return home to Australia to perform together with Sir Elton as special guests aka Elton John vs Pnau (at this show only) celebrating the release of the extraordinary UK number 1 album, 'Good Morning To The Night'
In the words of Sir Elton John himself..
"About five years ago when I was on tour in Australia I went to a record store in Sydney where I found the Pnau album. I bought it and fell in love with it, so I got in touch with Nick and Peter from Pnau and met them for coffee the next day. Some time later they left Australia and came to London, and now my company manages them. As soon as they arrived in England we started talking about Pnau doing a remix album using my early material. Basically I gave them free rein to go through all the master tapes and select whatever they wished."
"Like all these things it's about waiting for the right combination of circumstances. We didn't give Pnau any sort of deadline on this project, but this summer seemed like a great time to release the album. And obviously it was, because the album went straight to Number One – my first UK number one album for 22 years!"
"In July I was invited to appear with Pnau at the Ibiza Rocktronic 123 Festival. Although it was an incredibly young audience, I was very surprised and happy to hear them all singing along to Your Song before we had even started playing the dance music. That set the tone for entire show and it was an amazing night. I am hoping members of the Sydney audience will be equally enthusiastic when they come and see me play Good Morning To The Night with these two very talented Aussies."
With the release of 'Good Morning To The Night', comes the second official single from the album – the upbeat & blissfully melodic 'Sad'. Hitting the Top 15 in the UK Airplay Chart on it's release, 'Sad' includes elements from no less than five different Elton John classics, including the #1 hit, blended with a distinctive genius that can only be described as PNAU. The album's lead single 'Good Morning To The Night' was handpicked as one of five official songs for the London Olympic Games.
For an amazing musical taste of what's to come, check out the video for 'Sad
Chugg Entertainment Presents
Elton John solo in a 2nd and final Sydney concert
featuring special guests
Elton John vs Pnau
Performing the hit album 'Good Morning To The Night'
Friday 16 November – Sydney Entertainment Centre. NSW
Tickets on Sale Friday 21 September at 9am from
http://www.ticketmaster.com.au and phone: 136 100
The album by Elton John vs Pnau 'Good Morning To The Night' featuring the singles 'Sad' & 'Good Morning To The Night' out now through Ministry Of Sound via Universal Music
Also out now Pnau's stunning album 'Soft Universe' through Ministry Of Sound via Universal Music