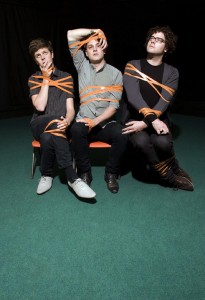 PVT will be performing a one-off show at Phoenix Public House on May 24th. It will be their only Melbourne appearance in over a year and will act as an insight into what they have been up to, with the band showcasing a great deal of their new material live for the very first time.
A result of constantly striving to deliver truly distinct and innovative music that is at once electrifying and powerful, PVT have received many local accolades including FBI's Release Of The Decade (for O Soundtrack My Heart), Album Of The Weeks from 3RRR, 2SER, FBi, Brag Magazine and Drum Media and much more.
The bands critically acclaimed 3rd album 'Church With No Magic' in 2010 marked a progression in their sound from 'O Soundtrack My Heart', with the introduction of multi-instrumentalist Richard Pike's soaring vocals. On what is to be an intimate warm-up performance in the lead up to PVT's Vivid LIVE show the following night, the audience will be treated to a set list mainly featuring previously unheard tracks from the band's next           album. This is set to be a very special evening.
Having toured the world twice over in support of 'Church With No Magic', the band are also very pleased to be returning home to Sydney Opera House to play Vivid LIVE 2012 for the second time (originally invited by  illustrious musician Brian Eno in 2009) accompanied for a once only performance by a horn section and unique light show. The band have talked about the show in a 'Late Night Confession' video HERE
PVT have proved themselves to be a fearless experimental act, always looking to break the boundaries of the rock, pop and electronic genres. They will be announcing details of their new album over the coming months.
SHOW DETAILS
Thursday May 24th– Phoenix Public House, Melbourne
Tickets $20 / $25 on the door. Available NOW HERE
Friday May 25th–  Vivid LIVE at Sydney Opera House
Tickets $39. Available NOW HERE
Press for 'Church With No Magic'
"Experimental rock aficionados rejoice!" – NME
"Brilliantly ambitious… bravely genre-defying… Church With No Magic has alchemy in spades."­ – TIMEOUT
"…what PVT does so wonderfully is extract the heart of electronic music… 'Church With No Magic' solidifies PVT as one of Australia's most inventive bands." – JMAG
"Beautiful, transcendent and elemental, PVT reminds us they don't wait for permission before taking the plunge." – DRUM MEDIA
"The combination of the famously incredible drumming with the confident and forward synth bass and dreamy, hallucinogenic guitar is augmented perfectly by the tone colour of Richard Pike's vocals." – ALBUM OF THE WEEK – THE BRAG