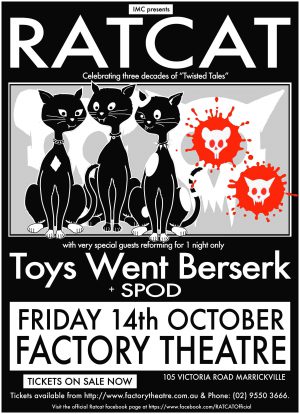 Three decades can be a long or short time… depending on whether you're staring at the clock or not. For RATCAT – who were born in the same year that Crocodile Dundee bizarrely positioned Australia at the forefront of international tourist destinations – 1986 was also an incredible & heady period for the Australian independent music scene. With innovative record labels including Phantom, Citadel, Red Eye, Aberrant & Waterfront discovering, nurturing & releasing an incredible array of important music by pioneering bands, little did Ratcat know (nor expect) the phenomenal widespread success they would go on to achieve.
Being a career (& story) not without it's fair share of the proverbial 'ups & downs', Ratcat formed via a group of friends from the same suburb of Sydney morphing from previous band incarnations all having been influenced & involved in the local punk & post punk scenes predominant across Australia at the time. Playing shows in many of the well known inner city & suburban venues (existing back then),  it was also a time when similar shows and events were happening in backyards, on harbour cruises, and, disused spaces quite regularly. Being a community spirit and camaraderie that existed amongst many of the bands who were signed to the aforementioned labels –  albeit sometimes organised a little chaotically – it was an important period paving the way for the future of these artists, labels and the Australian independent music industry.
Releasing a handful of self funded singles, an acclaimed self titled EP & the debut album 'This Nightmare' via Waterfront Records between 1987 through to 1989, RATCAT's steady rise in popularity was in part the result of public radio nationwide embracing the band as well as a healthy dose of touring including with notables (& heroes) from the time such as The Buzzcocks, The Ramones, The Cramps, Violent Femmes, Public Image LTD, Sonic Youth, The Wonderstuff, Swervedriver, Pop Will Eat Itself  & many more.
As the momentum gained pace, RATCAT then signed to INXS's newly created indie rooArt Records & released the then ground breaking 'Tingles' EP in 1990 which – & with no fanfare whatsoever – made  a steady climb to the top of the ARIA National Top Forty over a period of 7 months, eventually reaching the coveted number 1 spot (much to the band's surprise & shock at the time). 'Tingles' thereafter scored the accolade of becoming the highest selling EP of that year.  Featuring the 'sleeper' hit 'That Ain't Bad' (& with the original video featuring one of the first 'acting' performances for current international star, Naomi Watts), it was a bizarre & heady period completely unexpected by RATCAT.
The subsequent 1991 release of the 'Blind Love' album resulted in yet another  (although this time immediate) number 1 ARIA chart result and again, to the complete surprise of the band members and all involved at the time, RATCAT also scored a coinciding duel number one with the single 'Don't Go Now' (aria singles charts). History writes that RATCAT were the first Australian independent act to have achieved coinciding National Top 40  #1 album & single chart positions. The touring was relentless (including with INXS) and culminated in a huge Australian stadium tour whereby they invited the (then) new UK shoegaze sensations, RIDE, to support them – an arrangement that was reciprocated by RIDE in the UK.
As the Ratcat phenomenon began to reach hysterical proportions on home turf, they then packed their bags and moved to London – using this new home as a base to tour the world for the next year. Although the RATCAT story could continue for many paragraphs,  their success was mirrored internationally by Nirvana  nine months later, and despite Nirvana scoring the international accolades, the impact RATCAT had on the Australia music scene in the early '90s remains historically significant and undeniable.  Being at the forefront of an international musical change of direction that witnessed the boundaries between the independent and commercial sectors literally smashed to oblivion, RATCAT's incredible rise to popularity was the result of public demand, and with virtually no mass label marketing (at the time).
A generation & more has passed since the carefree & chaotic beginning – thirty amazing years. Although they don't perform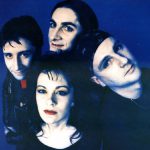 regularly these days and their career chapters have come to a close, RATCAT are celebrating this anniversary with a special show asking one of their favourite bands (& old pals) whom they used to perform with regularly back in the beginning to reform and & celebrate with them  – TOYS WENT BERSERK. Packing their bags and flying in from far corners of Australia, TOYS WENT BERSERK reunite for this special occasion … and a special occasion it is as coincidentally, TOYS WENT BERSERK  will also be blowing out the candles as 2016 marks 30 years since they also formed. With an impressive indie career which saw the release of numerous singles, two critically lauded albums and a ground breaking double 12″ EP release ('Pieces'), more of their history can be found here: Wikipedia
Also joining the anniversary proceedings will be the king of cool; the original party starter, Mr awesome himself… SPOD. With an impressive career in his own right, SPOD recently released a new long player 'Taste Of Sadness' being a nod to his debut album 'Taste The Radness' (2003). Everyone loves SPOD!
Performing all your favourite tracks + much more, this will be a one off anniversary party not to be missed. Details:
RATCAT – Celebrating 3 Decades of Twisted Tales…1986 – 2016
+ Special Guests & Friends reuniting for this one occasion TOYS WENT BERSERK (reforming for this one show only)  & SPOD
FRIDAY OCTOBER 14th, 2016 – FACTORY THEATRE – 105 Victoria Road, Marrickville
Tickets via Factory Theatre Box Office – http://www.factorytheatre.com.au  PH: (02) 9550 3666.
ON SALE WEDNESDAY JUNE 15TH
For further RATCAT research, please visit – http://en.wikipedia.org/wiki/Ratcat
& join the brand new Facebook Page right here for all the latest news & more:
https://www.facebook.com/RATCATOfficial
 Visit Toys Went Berserk on Facebook – https://www.facebook.com/toyswentberserk
In case you need reminding…watch here: