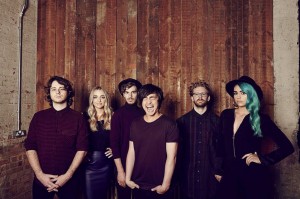 •    Sheppard release new single to the 3x platinum smash "Geronimo" and announce special album launch shows
•    Geronimo currently highest selling Australian single of 2014 and 7 weeks as #1 song on radio
•    Album "Bombs Away" released July 11
•    Playing to over 70,000 on the current Keith Urban tour
•    Releasing album globally through Decca Records with international touring throughout 2014
With the highest selling Australian single for 2014 so far and clocking up seven weeks at #1 on the Australian radio airplay charts, indie pop superstars Sheppard have returned to the airwaves today with a stunning new single "Something's Missing", lifted from their debut album 'Bombs Away' which hits stores July 11. The Brisbane hit-makers have also announced all-ages album launches in Sydney, Melbourne and Brisbane with special guests New Empire to celebrate their success with fans.
"This year has been such a whirlwind and it was important to us that we take the time to get out there on the road and celebrate our album with the fans," said George Sheppard, "The release of a first album is an important milestone for any band and we're just so happy that we can celebrate it with the people who have made it all happen for us."
Earlier this year, their smash hit 'Geronimo' spent three weeks at #1 on the ARIA charts, breaking the record for a run at #1 from an independently distributed Australian artist, with their success resulting in their signing to Decca Records for the world outside of Australia and a special invitation to join Keith Urban on his "Light the Fuse" tour where the band will play to over 70,000 people throughout June.
The album "Bombs Away" will deliver eleven slices of the band's trademark sound including the near triple platinum "Geronimo", last year's double platinum breakthrough ARIA nominated hit "Let Me Down Easy" as well as the new single "Something's Missing". Sheppard emerged from Brisbane in 2012 and features siblings George, Amy and Emma Sheppard along with friends Jay Bovino, Michael Butler and Dean Gordon. Striking a rare chemistry, the band has been lauded across the world for their ability to combine rock and pop into finely crafted gems that have seen them tour to the US, Europe, UK and South East Asia.
'Bombs Away' hits stores on July 11 through Empire of Song / Chugg Music / MGM. Pre-order your copy now at bit.ly/sheppardstore
Catch Sheppard Live!
'Bombs Away' Album Launch dates with special guests, New Empire
ON SALE 10.00am FRIDAY JUNE 27TH
Fri July 25th   – Eatons Hill Hotel, Brisbane QLD (ALL AGES ALBUM LAUNCH) – Tickets from http://eatonshillhotel.oztix.com.au
Sat July 26h – Big Top Luna Park, Sydney NSW (ALL AGES ALBUM LAUNCH) – Tickets from http://www.ticketmaster.com.au and http://www.bigtopsydney.com/tickets.html
Fri August 1st – TWO SHOWS AS FOLLOWS:
The Hi-Fi, Melbourne VIC (UNDER 18's MATINEE ALBUM LAUNCH – 4.30pm doors)
The Hi-Fi, Melbourne VIC (OVER 18's ALBUM LAUNCH – 8.30pm doors)
Tickets from https://tickets.thehifi.com.au/
ON SALE 10.00am FRIDAY JUNE 27TH
Check bit.ly/sheppardstore for special fan presale & bundle information