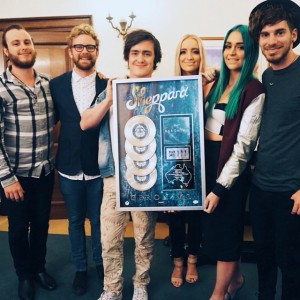 With the highest selling Australian single for 2014 under their belt with "Geronimo" and following four stellar album launches, Sheppard headed to Europe in July for the first steps in their journey towards a global hit and return with an impressive story to Australia for October for a run of live shows. Although they've toured internationally numerous times, this most recent trek has seen  Sheppard  hit the  top 10 in Ireland, Italy and Poland with "Geronimo" becoming the third most played video in Spain and being added to major national radio in Denmark and Germany. In other territories, "Geronimo" has also hit the  iTunes top 10 in New Zealand, Indonesia, Malaysia and The Philippines. The single is rising rapidly in the Mediabase US National Alternative  charts, jumping from #107 up to #62 this week.
"The response in Europe was great. It was so much fun to go to countries where we were starting from the bottom again and winning over the fans one by one with our songs," said Amy Sheppard. "We are so pleased that we have the opportunity to duck home to see our Australian fans again before we head out to the states in November."
The Sheppard freight train is not slowing down as their world-beating 2014 continues. Sheppard's manager Michael Chugg is currently working with US co-manager Scooter Braun  – planning their November trip for an assault stateside in September and October. At a recent performance at Australia House in London, the band were surprised with plaques for QUADRUPLE platinum sales for their single "Geronimo" with the band's international label Republic/Universal stating in this week's US industry bible Music Week that they hope to "match the success Sheppard has achieved in their home territory."
The band's October tour of Australia will see them playing a handful of regions for the first time since the release of their now gold selling album "Bombs Away" as well as return visits to Brisbane, Sydney and Melbourne.
TICKETS FOR SHEPPARD'S TOUR ARE ON-SALE MONDAY 8 SEPTEMBER
Their hit album 'Bombs Away' is out now through Empire of Song / Chugg Music / MGM.
See Sheppard Live on their National 'Bombs Away' Tour Presented by The Today Network & Channel V with Special Guests, Microwave Jenny.
* Wed October 1st  –  Old Museum (All Ages Evening), Brisbane QLD Tickets available from   http://www.oldmuseum.org
* Thu October 2nd   –  Ormond Hall (18+) – Melbourne VIC Tickets available from http://www.oztix.com.au
* Fri October 3rd     –  Gasometer Hotel (All Ages) – Melbourne VIC Tickets available from http://www.oztix.com.au

* Sat October 4th     –  Deni Ute Muster,  Deniliquin NSW  Tickets available from http://www.deniutemuster.com.au
* Sun October 5th     – Kay Street Entertainment Complex (18+) Traralgon VIC Tickets available from http://www.oztix.com.au
* Thu October 9th    – The Tivoli (18+)  Brisbane QLD Tickets available from http://www.ticketmaster.com.au
* Fri October 10th    – Waves (All Ages) Wollongong NSW Tickets available from  http://www.moshtix.com.au
* Sat October 11th  – Bateau Bay Hotel (All Ages) Bateau Bay NSW Tickets available from http://www.oztix.com.au
* Sun October 12th    – Enmore Theatre (All Ages) Sydney NSW Tickets available from  http://www.ticketek.com.au
* Thu October 16th  – Astor Theatre (All Ages)  Perth WA Tickets available from http://www.liveattheastor.com.au
NB – Sheppard also appearing at
Sat Sep 27th – Nth Melb Grand Final Breakfast Broadcast – Etihad Stadium, VIC
Sun Sep 28th – Celebrate Gold Coast – Queen Elizabeth Park, Marine Parade, Coolangatta QLD
And for something special, check out Sheppard's astounding performance of Billy Thorpe's 'Most People I Know' at the recent 2014 APRA Awards