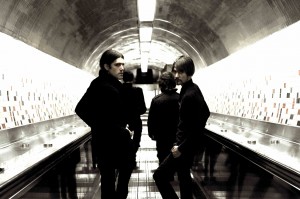 returning to perform in Australia….
the morning after girls
Ladies & Gentlemen, we are very pleased to announce after having spent the last five years based in New York City, The Morning After Girls have returned home to Australia with an astonishing album, together with two special shows in  NSW. Hailing from Melbourne in 2003, the band commenced their worldly career path traveling this country extensively, immediately earning them invitations to appear at some of the world's most prestigious international events such as Reading, Leeds, T In The Park & Oxygen Festivals. Performing a plethora of shows internationally through America, England and Europe of their own and personally invited to open for well known acts such as The Black Keys, BRMC, Muse, Jane's Addiction, The Jesus & Mary Chain and Interpol to name a few.
Being some six years in the making, their sophomore album 'alone' exhibits a stunning and eclectic selection of breath taking compositions created and inspired via a full gamut of emotions on life's topics and this sometimes lonely planet we all exist on. With the assistance of famed producer Alan Moulder (My Bloody Valentine, NIN, The Smashing Pumpkins) and local genius and visionary Robbie Rowlands they're album 'alone' has been hailed as a must listen by American Rolling Stone, Mojo, Spin and NME magazine.
Released solely in America, The Morning After Girls now wish to finally share their unique sound of alone with their native homeland. Personally invited to tour with My Bloody Valentine recently, TMAG now focus on their own tours back home in Australia
Do not miss these special shows:
Friday May 17th – Oxford Art Gallery (With Underground Lovers)
Tickets available from www.moshtix.com.au
Saturday May 18th – Great Northern Hotel, Newcastle + Guests
Tickets available from http://www.oztix.com.au