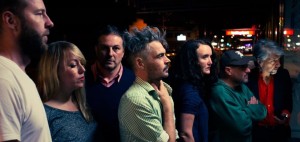 A CELEBRATION OF 25 YEARS
Celebrating their 25th anniversary, Melbourne's legendary Underground Lovers present a series of very special performances at The Toff in Town, Melbourne (Sat March 22nd & Sun March 23rd) – and now just added, a show in Sydney  at Newtown's newest venue, The Roller Den (Fri April 11th). Presenting these performances uniquely in each city, Underground Lovers will perform songs from their spectacular career as a virtual 'two chapter' set as follows:
'EVERYBODY'S FAVOURITE'
Songs from the early years: 1989-1993
Featuring tracks from the Undies self funded debut and ARIA award winning album 'Get to Notice', as well as tracks from the rare 'Nice' EP and the band's seminal second album, 'Leaves Me Blind' (Rolling Stone Magazine's Best Australian Album 1992). This set will re-capture the band's headline gigs in the early days of Fitzroy's The Punters Club and their early support slots to the likes of The Cure, Ride and My Bloody Valentine.
'WONDERFUL THINGS'
Songs from 1994 and beyond
Featuring tracks from the band's breakthrough album 'Dream It Down' (the single from the album 'Losin' It' came in at #19 in triple j's Hottest 100 of 1994), the independently produced and ARIA nominated 'Rushall Station', the experimental 'Ways T'Burn', the electro tinged 'Cold Feeling' and last year's acclaimed comeback album 'Weekend'. This set will feature tracks that found their feet on UK and US tours of the mid-nineties as well countless national headline tours with the likes of Grant McLennan, Drop City, Autohaze and Gersey.
To help celebrate 'Past Present' – Underground Lovers 25th anniversary shows, Rubber Records will release 'Can For Now', a third single from last year's extraordinary 'Weekend' album. Some rare early recordings will also be available as B sides as part of the release. A 1989 demo of 'Get to Notice' recorded by the legendary Simon Grounds and the band's tribute to Lou Reed with their 1993 version of the Velvet's 'I'll Be Your mirror'. All tracks will be available as digital downloads on iTunes from March 14th.
'Past Present' (taken from the title of an unreleased Bennie/Giarrusso song from 1982) promises to be an exciting and emotional exploration of undergroundLOVERS both past and present. It will be a rare chance to hear live, some of the songs from the past before new undergroundLOVERS material surfaces in the very near future. As a treat for those attending, Underground Lovers have asked a selection of their talented special friends to join them for these special shows including – Penny Hewson (Sea Stories); the one & only Dave Graney (The Moodists, The Coral Snakes etc) and Simon Day (of 90's hit makers, RATCAT)
UNDERGROUND LOVERS – 'PAST PRESENT'  – 25th Anniversary Shows –
SATURDAY MARCH 22ND – THE TOFF IN TOWN, MELBOURNE + Special Guest, Penny Hewson (Sea Stories)
'EVERYBODY'S FAVOURITE' – Songs from the early years: 1989-1993
TICKETS ON SALE NOW – http://tickets.thetoffintown.com/event/view/rpswf20q5
SUNDAY MARCH 23RD – THE TOFF IN TOWN, MELBOURNE + Special Guest, Dave Graney (The Moodists, The Coral Snakes etc)
'WONDERFUL THINGS' – Songs from 1994 and beyond
TICKETS ON SALE NOW – http://tickets.thetoffintown.com/event/view/sqx7y8rck
FRIDAY APRIL 11TH  – THE ROLLER DEN, NEWTOWN (22 Erskinville Road, Newtown) + Special Guest DJ Simon Day (RATCAT)
'EVERYBODY'S FAVOURITE' – Songs from the early years: 1989-1993 &  'WONDERFUL THINGS' – Songs from 1994 and beyond
TICKETS ON SALE NOW – www.oztix.com.au

Visit Underground Lovers –  http://undergroundlovers.com.au
A reminder of the musical genius of Underground Lovers courtesy  of the indie hit 'Your Eyes' (Remix version)