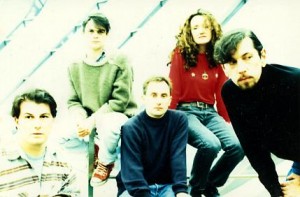 Celebrating the release of their first new album in 14 years, seminal dream pop outfit Underground Lovers will debut their seventh full length album, 'Weekend' via a series of exclusive shows across the East Coast starting in their hometown of Melbourne on April 20th at The Corner Hotel
The album title, a nod to Jean Luc Godard's agitprop 60's masterpiece of the same name, takes its listeners on a musical journey of exquisite tension and propulsive rhythms to a place you never  want to leave. A combination of distinctive guitar, dance loops, ethereal vocals and introspective lyrics produce the unusual pop / rock songs and atmospheric dance music that is the first album in some years from Underground Lovers.
Right now celebrated as both RRR and PBS Album Of The Week, this highly anticipated new record has been welcomed with wide critical acclaim…
"Underground Lovers, one of the most vital Melbourne acts of the 1990's, were never given to conformity, and nothing has changed on their comeback album. On Weekend, they added to an already lengthy legacy." The Age 05/04/13
"the Underground Lovers first album in 14 years is a triumph." Stack Magazine 03/13
"One of the most consistently engaging bands Australia has ever produced" Singled Out – Time Off 12/3/13
Be the first to witness 'Weekend' come alive for a series of special 'Weekend' album launches across the East Coast. The Sydney & Melbourne shows are with special guests, The Morning After Girls who have also just returned to Australia  after have lived in New York since 2007 (touring the world) with an impending new album of their own soon to be released.
Show details are
*  Saturday April 20th – The Corner Hotel, Melbourne, VIC + Special Guests, The Morning After Girls & Lowtide Tickets from https://corner.ticketscout.com.au/gigs/1305-underground-lovers-
*  Friday May 17th  – Oxford Art Factory, Sydney NSW + Special Guests, The Morning After Girls & tbc Tickets from http://www.moshtix.com.au
*  Friday May 24th  – The Northern, Byron Bay NSW + Special Guests, TBC Tickets from http://www.oztix.com.au
*  Saturday May 25th    – The Zoo, Brisbane QLD + Special Guests TBC                                                                                                                       Tickets from http://tickets.oztix.com.au
The Incredible trailer for the album and first single, 'Au Pair', can be seen here:
And for another taste of 'Weekend's incredible sounds, here's an excerpt from the track 'The Lie That Sets You Free'
And of course, there's the amazing first single. 'The General Public' from The Morning After Girls forthcoming album release, 'Alone' – check out the video (filmed in New York City) right here: