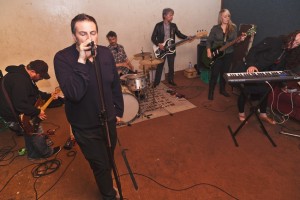 We've been waiting for years…..finally, the very amazing UNDERGROUND LOVERS  release their seventh full length album, 'WEEKEND'. The ten track long player is currently &  exclusively  available via www.pledgemusic.com/artists/undergroundlovers prior to a general release happening April 5th.
The album title, a nod to Jean Luc Godard's agitprop 60's masterpiece of the same name,  takes its listeners on a musical journey of exquisite tension and propulsive rhythms to a place you never  want to leave. A combination of distinctive guitar, dance loops, ethereal vocals and introspective lyrics produce the unusual pop / rock songs and atmospheric dance music that is the first album in some years from Underground Lovers.
Be the first to witness 'Weekend' come alive when the original line up of Vincent Giarusso,  Glenn Bennie, Maurice Argiro, Richard Andrew, Phillipa Nihill are joined by Emma Bortignon on second bass  for a series of special 'Weekend' album launches across the East Coast. The next being at Melbourne's The Corner Hotel  with special  guests, The Morning After Girls who have also just returned to Australia  after have lived in New York since 2007 (touring the world) with an impending new album of their own soon to be released.
Show details are
*  Saturday April 20th – The Corner Hotel, Richmond + Special Guests, The Morning After Girls & tbc
Tickets from  https://corner.ticketscout.com.au/gigs/1305-underground-lovers-
We cannot stop watching and listening to the trailer for the album, featuring the astounding first single 'AU PAIR' –  check it out here:
And of course, there's the amazing first single. 'The General Public' from The Morning After Girls forthcoming album release,  'Alone' – check out the video (filmed in New York City) right here: