From Montreal, Quebec & touring Australia for the first time! Introducing the amazing
Elliot Maginot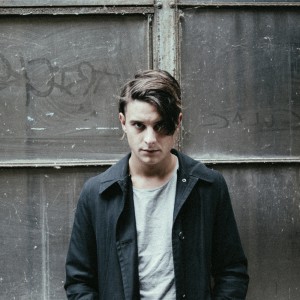 Accidents sometimes turn into fireworks. It was almost without realizing and despite himself, that the artist soon to be known as Elliot Maginot laid down his first fragments of songs on a small and cheap audio recorder.
With little experience in some short-lived garage bands, slaughtering skate-punk tunes in his teenage years, Elliot was far from considering the guitar as the instrument with which to captivate and enchant an audience. He will have to go through what he describes as a "hermit period " for the instrument to reveal all its potential, and for Elliot to discover his ability to create beautiful melodies.
The few snippets of music, scattered choruses and verses soon became real songs. Elliot Maginot adorned his new tunes with layers of vocals, a mood reminiscent of small cathedral choir. This experimentation led to a home recording of his first EP (2013). The tracks delved into sensitive and dark folk embracing influences from greats like Nick
Drake and Bob Dylan. His first full length album, Young.Old.Everything.In.Between, produced by Jace Lasek (Besnard Lakes, Suuns), promises to orbit even more in the atmospheric areas of dreamy pop, with lyrics infused with painful love, regrets and dualities. The album will be released in  in Australia via Indica Records / MGM Distribution.
The main difference between the young hermit who did not go out much and Elliot Maginot is the songwriter has now discovered the possibility of self reinvention that the musical process allows. Music with which he can now choose who he wants to be, with which he was finally able to escape the daily predicaments that threaten to stifle. Music through which he can paradoxically embody in concealing his real name, the most authentic version of himself. Hence the pseudonyme, Elliot Maginot, chosen without real reason.
Because accidents sometimes turn into fireworks… Don't miss Elliot Maginot live in Australia for the first time! Dates:
THU JAN 14  –  The Brightside, Brisbane QLD
FRI   JAN 15  –  The Haven, Murwillumbah NSW
SAT  JAN 16  – The Quicksilver Shop, Gold Coast QLD
SUN JAN 17  – The Solbar, Sunshine Coast QLD
MON JAN 18  – The Northern, Byron Bay NSW
WED JAN 19  – Café Lounge (277 Goulburn Street, Surry Hills) Sydney NSW (+ guest headline, AYLA)
THU JAN 21    – Brass Monkey, Cronulla (With Hein Cooper, Grace Pitts) – Tickets here – www.oztix.com.au
SAT JAN 23    – Bondi open air cinema, Bondi Pavilion, Bondi Beach NSW
WED JAN 27  – RAD Bar, Wollongong, NSW (with Hein Cooper) – Tickets here – www.moshtix.com.au
THU JAN 28   – Lizottes, Newcastle NSW (With Hein Cooper) – Tickets here – http://www.newcastle.lizottes.com.au/
FRI JAN 29 to SUN JAN 31    – King Island Festival, King Island TAS
THU FEB 4      – Whole Lotta Love Bar, Melbourne VIC
FRI FEB 5        – Quicksilver Store, Torquay VIC
YOUNG.OLD.EVERYTHING.IN.BETWEEN – the stunning album out now    'Monsters at War' … the single
Via Indica Records / MGM Distribution Australia
Visit Elliot –
Facebook – https://www.facebook.com/elliotmaginot/
Website – http://elliotmaginot.com/
Watch  Elliot Now –