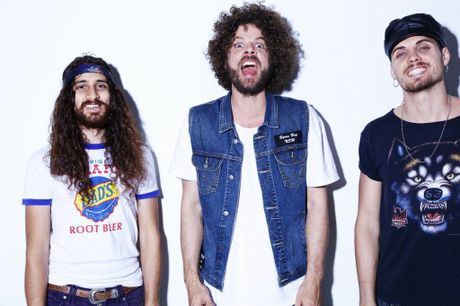 They're back …. that's right Wolfmother have returned from an all conquering international tour and there's no rest for these hard-working rockers!
After a 2 month sold out headline and festival tour across the USA promoting the international release of the incredible new album 'New Crown', ARIA & Grammy award winners, Wolfmother continue their tour adventures with a handull of Queensland shows showcasing the mind-melting new tracks from 'New Crown'… and of course, to rock out the classics.
This time, it's your turn Gladstone, Hervey Bay & Toowoomba with Wolfmother presenting exclusive shows in these regions. Thereafter, Wolfmother hit the big stage to close Brisbane's iconic Caxton Street Festival.
Strictly limited tickets available ….& remember, it's first in first served! Full details:
Thursday June 5th – Harvey Road Tavern, Gladstone, QLD – Tickets from www.ticketmaster.com.au
Friday June 6th – Bay Central Tavern, Hervey Bay – Tickets from www.ticketmaster.com.au
Saturday June 7th – Blue Mountain Hotel, Toowoomba – Tickets from www.ticketmaster.com.au
Sunday June 8th – Caxton Street Festival, Brisbane  – http://www.moshtix.com.au
Check out 'New Crown' right here..right now!   – http://wolfmother.bandcamp.com/album/new-crown
WATCH THIS NOW  – https://www.facebook.com/photo.php?v=10152437291127667
For further Wolfmother info, please visit: