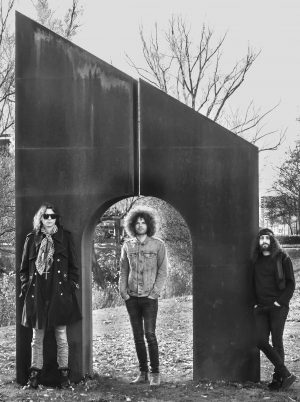 Having spent the majority of 2016 touring & selling out theatres, stadiums & festivals throughout the world including North & South America, Europe, the UK & Scandinavia, Wolfmother finally return to Australia for the home leg of their Gypsy Caravan Tour  (& their first full national album tour since the release of 2009's  'Cosmic Egg'). With an extensive history & career, including multi platinum sales, ARIA, Grammy & other award nods too numerous to mention, Wolfmother released album number 4, 'Victorious' in 2016 to rave reviews & enthusiastic internationalresponse resulting in the aforementioned extended world tour.
Led by vocalist/guitarist Andrew Stockdale, Wolfmother have amassed a global fanbase, played to packed-house crowds around the world, delivered show-stealing sets at star-studded festivals like Coachella, Lollapalooza and Reading and Leeds, and have been invited to share stages with rock icons Aerosmith and AC/DC. For their induction into the UK Music Hall of Fame, Led Zeppelin personally invited Wolfmother as their guests (the band showed their appreciation by delivering an electrifying cover of "Communication Breakdown"). For most artists, such accomplishments usually mark the culmination of a career – if they're lucky.
Pitchfork praised the songs for striking "a balance between meaty vintage metal and crisp, stoner-rock melodies." NME said it ticked "the requisite boxes for all great rock & roll" and called it "utterly, utterly thrilling," and Q Magazine called it "immense fun." When it was released in 2005, Wolfmother's eponymous debut was exactly what rock & roll needed: a meaty, beaty, big and bouncy genre resuscitator that not only broke through to the mainstream, but broke big. Wolfmother was certified Gold in the States and Triple-Platinum in the band's Australian homeland.Lead single "Woman" hit top ten on the Hot Modern Rock Tracks Chart and won a Grammy for "Best Hard Rock Performance." Their songs became ubiquitous, appearing in films (Shrek, Jackass, The Hangover), video games (Need For Speed, MLB: The Show, Saints Row) and television commercials (Apple, Mitsubishi). No wonder Rolling Stone named it one of the best albums of the year.
But ten years after their arrival, Wolfmother have returned with what could arguably be called their best work to date. With Victorious, Stockdale once again arrives right on time: in an era dominated by single-song downloads, this is an album worthy of repeat listens from top to bottom. Following 2009's Cosmic Egg and 2014's New Crown, the much anticipated Victorious (Universal Music Enterprises) is an electrifying testament to the range and depth of Stockdale's artistry. Recorded at Henson Studios in Los Angeles with two-time Grammy winning producer Brendan O'Brien (Pearl Jam, Soundgarden, Bruce Springsteen), the songs are edgy, inventive and uncompromising and rank among the band's best ever.
Stockdale began working on the record this past January at his Byron Bay studio in New South Wales, writing on every instrument and embracing the same creative approach he used on the band's debut album a decade ago. "Back in the early days, I'd play guitar, bass, and drums and then present the ideas to the band and we'd work on the arrangement together," he says. "I thought it would be cool to get back to demoing ideas by myself and playing everything. It's a good way to do things because it can make the style more cohesive." In addition to vocals, Stockdale played guitar and bass and brought in Josh Freese (Nine Inch Nails, Bruce Springsteen, APerfect Circle) and Joey Waronker (Beck, Gnarls Barkley, REM) to split drum duties. About working with O'Brien Stockdale says, "I did the last record by myself, so it was good to get back to working with a producer who could help with arrangements and have a responsibility to maintain the sound. Brendan's a very musical producer, and he had a great understanding of the songs."
The first single "Victorious" swings from a propulsive riff and pronounced drum stomp into a gargantuan, triumphant vocal hook. "I bought this weird-looking eighties metal guitar," he recalls. "It just looks hilarious and I was playing all of these riffs for 20 minutes, pairing them with drums. The lyrics came out of nowhere. It felt so natural. The words had a certain ring to them." The album announces itself with "Love That You Give," tempering a rousing and raucous riff with a soulful vocal refrain and vibrant lyricism. "I had a couple of drinks and started writing," he says. "By the end of the day, it was done. Nothing changed from the demo. The lyrical theme is, 'How do you react to adversity or difficulties in life?' You try to be proactive and put something positive back into the world instead of buying into other people's aggression, negativity, or hatred. You're counteracting emotions that get thrown at you." For the cinematic "Pretty Peggy," he strips everything down to an acoustic guitar and delicate beat, then illuminates his dynamic range over the sixties-style strut and handclap of "Best of a Bad Situation."
He recalls how the latter came together: "There was a huge storm approaching Byron Bay. All the streets were flooded, and they were telling everyone to stay home, but I drove through it, went to the studio, and started listening to all these Small Faces songs with Rod Stewart. I wanted to do something upbeat like that." About the thick-grooved "Gypsy Caravan," Stockdale says, "the title references the transient lifestyle. When people finish high school, they want to backpack around the world. When people retire, it's the same thing; they want to get an RV and ride around. Things are constantly moving. There's a romantic notion of the musical life, but wanderlust truly unites all of us." Ultimately, Victorious is meant for the road – that's where Wolfmother roars to life. "We wanted to get back to that big sound," says Stockdale. "It's this balance of garage-y energy and big production. It's wilder and more energetic—and perfect for a festival main stage."
With their return, Wolfmother recently performed a series of stadium dates across Australia as guests of behemoth rock legends, Guns N' Roses (which also included GnR shows in USA, Singapore & New Zealand) Finally, Wolfmother return to home stages headlining their own shows with tour dates as follows:
WOLFMOTHER National Gypsy Caravan Tour + Guests – Tumbleweed (Waves Wollongong & Sydney Metro Only) Davey Lane (All shows except Margeret River, Perth, Adelaide & Frankston) & Immigrant Union (All shows)
Thu April 20th – The Cambridge, Newcastle NSW – Details & tickets https://thecambridgehotel.com.au
Fri April 21st   – Waves, Wollongong NSW – Details & tickets http://www.towradgibeachhotel.com.au
Sat April 22nd  – Metro Theatre, Sydney NSW – Details & tickets –  http://www.metrotheatre.com.au 
Sun April 23rd – The Triffid, Brisbane QLD – Details & tickets http://thetriffid.com.au/
Wed April 6th – Settlers Tavern, Margaret River – Details & tickets www.oztix.com.au
Thu Apr 27th  – Metro City, Perth WA – Details & tickets https://www.metroconcertclub.com/
Fri Apr 28th  – The Gov, Adelaide SA – Details & tickets http://www.thegov.com.au/
Sat Apr 29th  – Pier Bandroom, Frankston VIC – Details & tickets https://www.thepierhotel.com.au/
Sun Apr 30th – The Croxton, Melbourne VIC – Details & tickets http://thecroxton.com.au/
Wed May 3rd – Club Forster, Forster NSW – Details & tickets  https://www.clubforster.com.au/
Thu May 4th – Panthers, Port Macquarie NSW -Details & tickets http://portmacquarie.panthers.com.au/
Fri May 5th – Sawtel RSL Club, NSW –  Details & tickets http://sawtellrsl.com.au/
Sat May 6th – Coolangatta Hotel, Gold Coast QLD -Details & tickets – http://www.thecoolyhotel.com.au/
Sun May 7th – The Helm, Mooloolaba QLD Details & tickets https://www.wharftavern.com.au/nightclub
Thu May 18th – Kay Street, Traralgon VIC Details & tickets – www.oztix.com.au
Fri May 19th  – The Wool Exchange, Geelong VIC Details & tickets – www.oztix.com.au
Sat May 20th – The Granada, Hobart TAS – Details & tickets – www.moshtix.com.au
Sun May 21st – Club 54, Launceston TAS – Details & tickets – www.oztix.com.au
Sat June 03rd – Kuranda Amphitheatre, Kuranda Nth QLD – Details & Tickets – www.trybooking.com
JUST ANNOUNCED – WOLFMOTHER's LONG AWAITED RETURN TO NEW ZEALAND!!
Thu Jun 08th – The San Fran, Wellington – Details & tickets – SOLD OUT
Fri Jun 09th – The Powerstation, Auckland – Deatils & tickets – www.ticketmaster.co.nz
Visit Wolfmother –  WEB   FACEBOOK  INSTAGRAM   TWITTER 
Watch Wolfmother