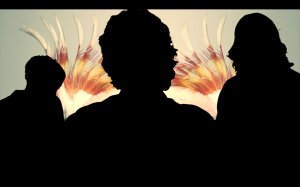 Rising from the 'remnants' of Sydney shoe gazers, UNDERLIGHTS, we are thrilled to introduce the sonic pop sounds of Brother Speed. Fronted by guitarist/vocalist Darius Navidzadeh and percussionist Tom O'Dell & formed in late 2012, Brother Speed combine the vibe of 'Madchester' with 60s pop rock sounds to create upbeat psychedelia for a new generation.
Navidzadeh and O'Dell met in high school where they bonded over a mutual love of Britpop and Americana – think Oasis meets Crosby, Stills, Nash and Young  -and regularly jammed their way through lunchtime periods. It wasn't long those heady school days that the duo experienced their first success as one half of Underlights. Scoring triple j's Unearthed 'band of the week' with the single 'Now That You're In Love' won them widespread praise and billings at music festivals including Big Day Out, Homebake and Playground Weekender, as well as a slew of headline shows across Sydney, Melbourne and Brisbane.
After relocating to London in search of a new musical direction, O'Dell and Navidzadeh met with founding Merseybeats member Billy Kinsley in Liverpool to talk everything music – ie; influences, sound and history. Inspired by Kinsley (who continues to provide invaluable wisdom and guidance) the guys set about putting their ideas into action. And so, borrowing a name from an outlaw Idaho motorcycle gang, Brother Speed was born. "With Brother Speed I'm combining both the retro and new in songwriting and production values – I want it to be at the same time reminiscent and refreshing, a sort of psychedelic pastiche, which I think we've achieved in our first recordings with Liam by combining the vocal and instrumental treatment of yesteryear with brand new synthesizers and sounds," explains Darius.
Armed with a renewed focus and an altered approach to their music, the Darius & Tom paired with acclaimed producer Liam Judson (Cloud Control, The Laurels) and started recording in the blissful surrounds of NSW's Kangaroo Valley.
Brother Speed's debut single 'Let Me Be', the first fruit of this labour, will be coming  your way this week. Raw fuzz and catchy vocal harmonies roll thick and fast into a nostalgic neo-psych 90s soundtrack for the Summer of Love.  The catchy as hell track is accompanied by a gloriously mind-mucking music video from Sydney production house Entropico – the team behind celebrated 2013 clips Touch Sensitive 'Pizza Guy' and Hayden James 'Permission to Love'. We compare it to The Mamas & The Papas meets The Jesus & Mary Chain!
In celebration of this debut single, Brother Speed unveil themselves with a Sydney launch as follows:
FRIDAY AUGUST 16TH –  SPECTRUM, 34 Oxford Street Darlinghurst, NSW + Special Guests, Hattie Carroll
Be There To Witness The Beginning!  Check out the video for 'Let Me Be' below.